Instant help against pimples. The SOS Spot Treatment specifically fights impurities. With its antibacterial formula, it naturally prevents pimples.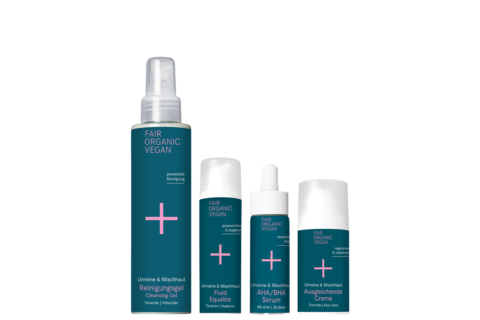 View product line
9,90 €
Content: 15 ml
66,00 € / 100 ml
Free shipping with DHL GoGreen from 25 € (D, AT)
We donate 25% of our profit
Productdescription

Instant help against pimples

In the event of a pimple emergency, the Anti-Pimple SOS Treatment is right on the spot. This antibacterial helper with plant-based salicylic acid and zinc directly counteracts clogged pores and at the same time prevents new impurities. The vegan anti-pimple cream frees the pores and leaves the skin looking healthy and fresh.

Right to the point – zinc and salicylic acid

A duo of active ingredients consisting of zinc and natural salicylic acid from willow bark extract works specifically against inflammatory skin blemishes – antibacterial, anti-inflammatory and skin-clearing. Zinc dries out the pore to help heal the wound. It soothes the skin in the long term and relieves inflammation. Aided by healing clay and tea tree oil, salicylic acid simultaneously rids the skin of excess sebum. Also known as BHA, it clears impurities with an exfoliating effect. Meanwhile, intensively moisturising hyaluronic acid rebalances the skin's own moisture content.

As pimples lose their bacterial breeding ground in this way, the Anti-Pimple SOS Treatment helps localised inflammations to subside quickly. At the same time, it deeply cleanses and prevents new skin inflammations, thus promoting a fine-pored, smooth complexion.

Natural aftercare for anti-pimple prevention

The Anti-Pimple SOS Treatment has come to say goodbye to pimples as a precautionary measure. Non-comedogenic oils provide the skin with preventive anti-pimple care on a natural basis – ideal for combination skin prone to pimples and impurities.

Fair trade jojoba oil intensively nourishes the skin without clogging the pores. The liquid wax not only soothes irritated skin, it can also heal inflammatory skin irritation together with vitamin E in a cell-renewing way. In addition, castor oil supports a clear complexion thanks to its antibacterial mode of action.

INCIS

AQUA, SIMMONDSIA CHINENSIS SEED OIL* (JOJOBA*), CAPRYLIC / CAPRIC TRIGLYCERIDE, ZINC OXIDE, LOESS (HEALING CLAY), POLYGLYCERYL-4 OLIVATE / POLYRICINOLEATE, HYDROGENATED CASTOR OIL (CASTOR), SORBITAN OLIVATE, SODIUM CAPROYL / LAUROYL LACTYLATE, SALIX ALBA BARK EXTRACT (WILLOW BARK), ZINC SULFATE, ZINC LACTATE, SODIUM HYALURONATE (HYALURON), MELALEUCA ALTERNIFOLIA LEAF OIL (TEA TREE), TOCOPHEROL (VITAMIN E), POLYHYDROXYSTEARIC ACID, SODIUM CITRATE, CITRIC ACID

* organic agriculture

100 % natural origin of the total product

More information in our glossary of ingredients.
Usage

Apply repeatedly to skin blemishes until pimples and irritations have disappeared. Use especially in the evening and leave on overnight.

Product tips

Anti-Pimple Mask: Our Clean & Clear Green Healing Clay Mask not only cleanses the skin down to the pores, but also supports cell renewal and the skin's natural functions. Feels good, looks good.
Balancing care routine: Ideally, cleansing is followed by a refreshing toner and an extra care treatment with a light serum to prepare for the face cream. The products in our ranges can be mixed and matched to suit your skin's needs.
Radiant finish: Together with the evening glow AHA/BHA fruit acid gel mask, the Anti-Pimple SOS Treatment is an ideal duo against pimple blemishes and blackheads. AHA and BHA acids provide an intensive glow effect without leaving rashes. Obtained from pure plant extracts, they exfoliate the facial skin down to the pores and help the complexion look clean and even.
Ingredients

Ingredients

Hyaluron

Hyaluronsäure ist natürlicher Bestandteil der Hautzelle, der Feuchtigkeit bindet und erhält. Wir verwenden 100% veganes, biotechnologisch durch Mikroorganismen gewonnenes Hyaluron, das das natürliche Feuchtigkeitsdepot der Haut unterstützt.

Tonerde

Weiße Tonerde (Kaolin) wie Grüne Tonerde (Heilerde) sind besonders reich an Mineralstoffen und Spurenelementen. Ihre reinigende, entzündungshemmende und regenerierende Wirkung verfeinert ein unreines Hautbild.

Jojoba

Jojobaöl ist verflüssigtes Wachs, das aus den Nüssen des Jojobastrauchs gewonnen wird. Der hohe Anteil an Provitamin A und Vitamin E wirkt antioxidativ. Es schützt vor Austrocknung und dient als leichter Lichtschutz.