Since 1978
The oldest Start Up in Germany
Anyone who believes that i+m NATURKOSMETIK BERLIN is just some kind of runaway start up is mistaken. In fact, it is one of the most traditional and politically committed natural cosmetics brands in Germany – and has been since 1978! And Inge Stamm, our great company founder, is one of the most experienced developers of German natural cosmetics.
---
From Midwife to Cosmetic Developer
In the 70's the midwife Inge Stamm noticed that baby skin reacts to conventional care products with irritations. Due to a lack of suitable alternatives, she began to develop and produce her own skin care alternatives – based on natural vegetable raw materials. Her three training courses – as a druggist, midwife and naturopath – were very helpful for her:

"As a certified chemist, I knew my way around botanical extracts and I knew how to make a smooth cream. I learned about herbs and medicinal plants in my work as a naturopathic practitioner; and as a midwife, I observed how newborn babies increasingly began to react to the standard care products we were using. A cream that met my expectations was nowhere to be found on the market. This is why, 35 years ago, I began developing a new range of cosmetics without preservatives, mineral oils or synthetic ingredients."


Inge Stamm

The positive effect of the self-developed care creams and the increasing demand finally led to the idea of founding a company – the idea for i+m NATURKOSMETIK BERLIN was born. Even during the founding phase, Inge Stamm continued to work as a midwife at night. In the morning she came to the manufactory and slept there for a few hours on the camp bed, before managing the production – until the next midwifery shift.
Already the first products enjoyed great popularity. And so Inge Stamm and her friend Monika Berg decided to focus exclusively on their own company. And the two friends and company founders quickly created a name from their two initials – Inge + Monika = I+M – and the rest is history. Monika Berg remained with the company until 1988. Inge Stamm then managed the company on her own.
Pioneering Spirit & Idealism
In 1978 the term "organic" was not yet established and an ecologically sustainable lifestyle was rather the exception. So the search for natural, ecologically grown raw materials was a real challenge for Inge Stamm.
She was also far ahead of her time when she decided to completely dispense with unnecessary outer packaging such as cardboard boxes for ecological reasons. The same applies to the intention to use exclusively animal-free raw materials and to completely dispense with artificial preservatives.
In the year 2000, Inge Stamm decided to produce only vegan natural cosmetics and to say goodbye to the only animal ingredients – beeswax and honey – in their compositions. This makes i+m NATURKOSMETIK BERLIN one of the pioneers in the vegan movement!
Inge Stamm's pioneering work contributed to the development of natural cosmetics and their significance today. And i+m NATURKOSMETIK BERLIN also remains committed to these values to this day and continues to expand them tirelessly.
FAIR ORGANIC VEGAN
For the further development of i+m NATURKOSMETIK BERLIN Inge Stamm was seeking support in 2007 – and found it in Jörg von Kruse and Bernhard von Glasenapp, two committed idealists with ample economic experience. After a decade in management consulting and business law, the two friends and lawyers had become seriously doubtful about the conventional economic model. The desire to live ecology and sustainability more strongly and to integrate them into their own company was common to all three. And so from then on they developed the brand further together and ecology, design and veganism became a uniform corporate concept.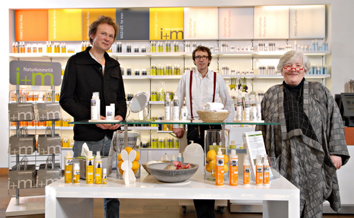 Inge Stamm retired at the end of 2013. i+m NATURKOSMETIK BERLIN is now being continued by the two eco-activists Jörg von Kruse and Bernhard von Glasenapp. And the already high ecological and vegan standards will be further developed and supplemented by a corporate concept that is even more oriented towards sustainability and the common good:
"The vision of a sustainable economy that conserves our environment and natural resources demands not only environmental awareness: we have to change our economic structures by moving away from egoism and competition and towards a fair mode of interaction that is aimed at the common good".


Jörg von Kruse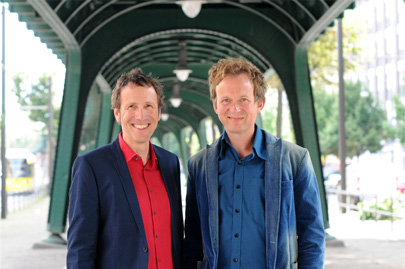 In this spirit, 2014 saw the unveiling of the new product design, FAIR ORGANIC VEGAN: while ORGANIC and VEGAN reflect those company values that are already practised, FAIR stands for new goals and visions. The team began to implement these immediately: starting that year, i+m opened the first women's refuge centre in the Republic of Zambia, began donating 40% of profits to charitable ecological-social projects, and introduced a new, comprehensive employee profit-sharing scheme.
"And we're still a long way away from exhausting the development potential of i+m NATURKOSMETIK BERLIN – the realisation and expansion of our values will continue to be a priority in the future."

Bernhard von Glasenapp
"In the future, we also want to be the political cosmetics brand in Germany which, with our values FAIR ORGANIC VEGAN, gives impetus to a society geared towards sustainability and the common good."


Jörg von Kruse
i+m Design Time Travel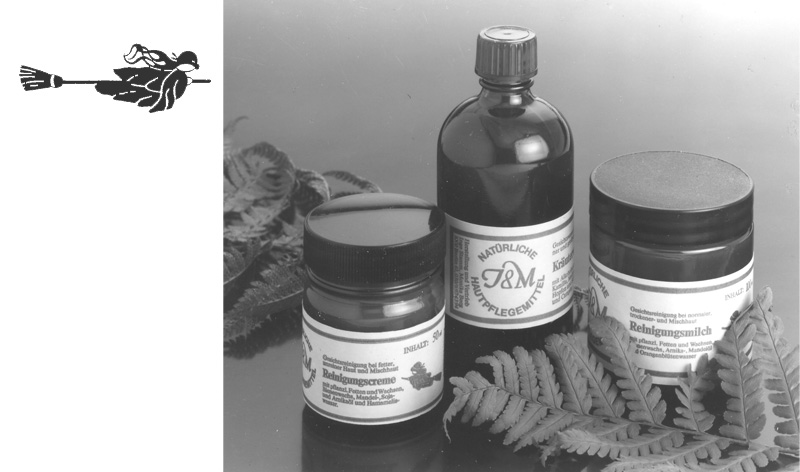 Beautiful!
As pioneers of organic and vegan products, we like to have our finger on the pulse of time. Our design is always beautiful and by doing without outer packaging, we try to make our contribution to waste avoidance. In 2017 we were nominated for the German Design Award!