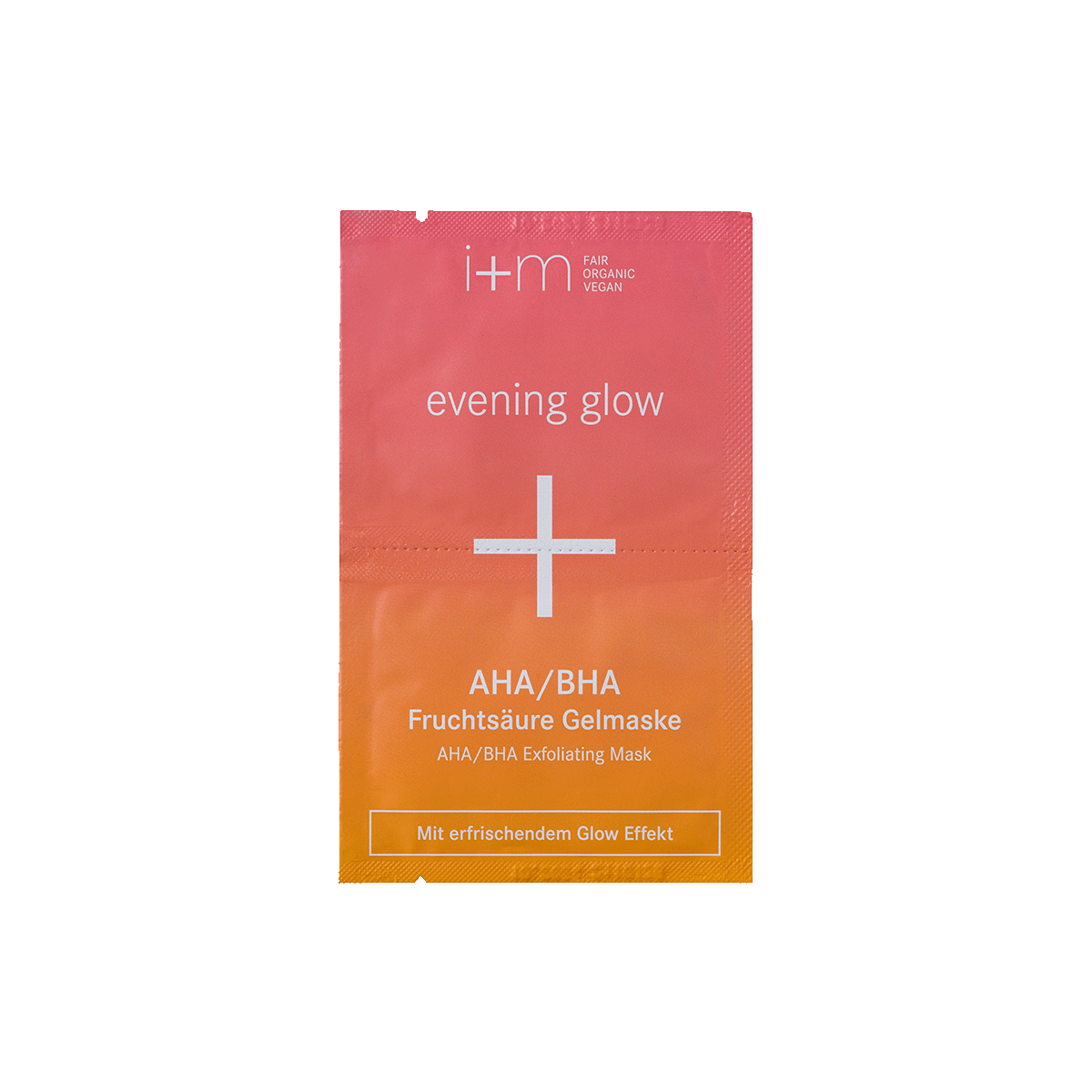 Refreshingly smooth. The evening glow fruit acid gel mask gives a radiant finish with highly concentrated AHA and BHA for that evening glow in organic quality.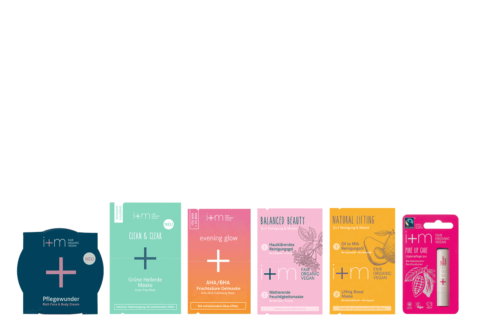 View product line
2,70 €
Content: 8 ml
33,77 € / 100 ml
Free shipping with DHL GoGreen from 25 € (D, AT)
We donate 25% of our profit
Productdescription

Peeling, cleansing, pore minimising

Restore facial skin's special sheen with the highly concentrated evening glow AHA/BHA Exfoliating Gel Mask. It refines dull, uneven skin intensively with pure organic extracts and pure rose water. The clarifying AHA/BHA complex completely revitalises the complexion, so it reflects the light with a silky, freshly exfoliated radiance – as if bathed in soft evening light.

Chemical peeling with natural AHA and BHA

The gel mask contains a combination of alpha and beta hydroxy acids for an intense glow. They exfoliate the facial skin pore-deep and help it achieve a clean, even appearance.

AHA, a natural fruit acid from summer fruits, leaves the complexion with a delicate rosy glow. A high-dose 10% AHA active complex of blueberry, orange and lemon extracts stimulates the skin. It gently loosens the top layer of skin, effectively ridding it of horny, dead skin cells. AHA also naturally reduces pigmentation spots.

Simultaneously, a 5% plant-based willow bark extract guarantees deep cleansing. The natural exfoliating effect of BHA counteracts skin impurities pore-deep and refines the pores for a smoother complexion. The highly concentrated AHA/BHA gel mask gently exfoliates and helps the skin to achieve a refreshed, clear, plant-based glow.

Hyaluron, aloe vera and rose

The combination of in-depth active hyaluron and fair trade aloe vera intensively moisturises and soothes the skin. Hyaluron has a gentle plumping effect and helps retain moisture deep inside the skin for a smooth complexion. Ultra-fine rose water refreshes the skin and leaves a delightful rose fragrance.

INCIS

AQUA, ALOE BARBADENSIS LEAF JUICE* (ALOE VERA*), ROSA DAMASCENA FLOWER WATER (ROSE), SALIX ALBA BARK EXTRACT (WILLOW), PENTYLENE GLYCOL, VACCINIUM MYRTILLUS FRUIT EXTRACT (BLUEBERRY), SACCHARUM OFFICINARUM EXTRACT (SUGAR CANE), SODIUM HYALURONATE (HYALURON), CITRUS AURANTIUM DULCIS FRUIT EXTRACT (ORANGE), CITRUS LIMON FRUIT EXTRACT (LEMON), ACER SACCHARUM EXTRACT (SUGAR MAPLE), XANTHAN GUM, SODIUM PHYTATE, ALCOHOL (<0,1%)

* organic agriculture

100% natural origin of the total product

More information in our glossary of ingredients.
Usage

After cleansing, dry your face and apply a thin film. Avoid areas around the mouth and eyes. Leave to work for 10-15 minutes, then rinse with warm water. Shorten this treatment time for sensitive skin. Preferably for use in the evening. Initially use 1-2 times per week, increasing the frequency if required.

Note:

It is normal to experience a slight tingling and reddening after application, particularly to start with, because this is a typical skin reaction to the AHA/BHA exfoliants. This should diminish after a short time, once the skin has grown accustomed to the exfoliating effect of the acids. Please discontinue use, however, in the event of an extreme skin reaction or in pregnancy.
After application, the skin will be particularly sensitive to UV radiation for about 24 hours. For this reason, it is vital to protect the skin from direct sunlight during the day. A sunscreen with at least SPF 30 is the ideal solution.
Physical exfoliation treatments should be avoided over the next few days.

Product tips

Cool stays fresh for longer: In the refrigerator, even large fruits stay crisp, juicy and fresh for a long time. This also applies to the small AHA fruit acids, which remain stable and therefore effective at low temperatures. The special highlight: A cool gel mask gives the skin a special freshness kick at the same time.
Active at night: Applied in the evening before going to bed, the AHA/BHA gel mask conjures up silky radiant skin overnight. Thanks to the extra portion of moisture, it not only induces a truly refreshing beauty sleep. As part of the evening care ritual, the exfoliating gel mask has the particular advantage that the skin is initially protected from the first rays of the sun in the most sensitive hours directly after application. And, as we all know, sleep is the best time to recover.
Care routine: After an extra-care treatment with the AHA/BHA gel mask, the skin should ideally be given a nourishing after-treatment with face cream. The products in our series can be mixed and matched according to the skin's needs.