Fair Cocoa Butter from Peru
Our raw cocoa butter is extracted from cocoa pods from small farm cooperatives in the Amazon region around Pucallpa in western Peru. Our local partner, Villa Andina, supports small-scale local farmers with the environmentally-friendly, sustainable cultivation of cocoa trees, which are largely grown in mixed culture, and also trains them in cocoa processing methods.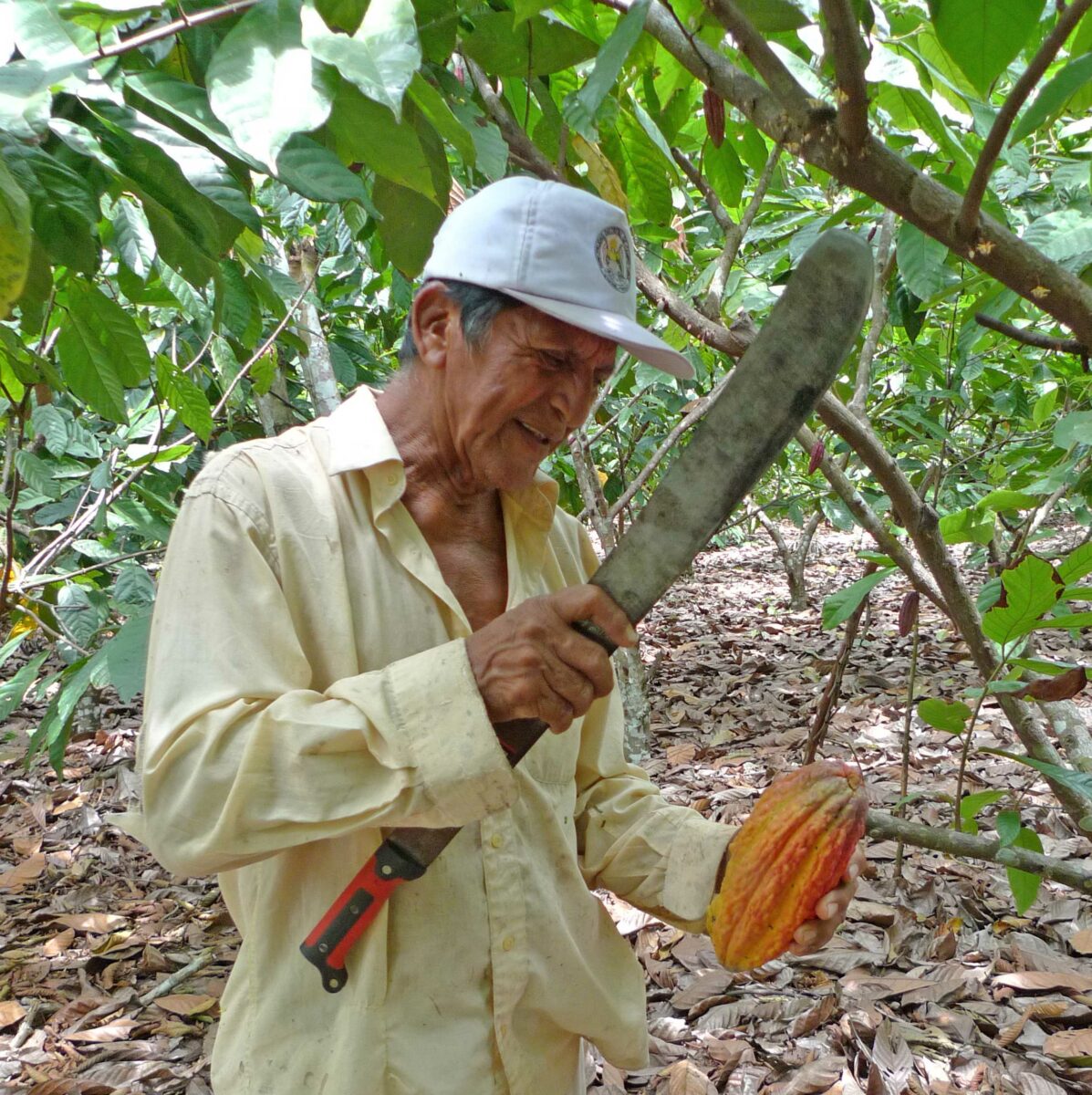 Maximum profit for everyone
Harvest time for this precious fruit is from April to December. After this the cocoa pods are taken to the production facility at Cajamarca in the Peruvian Andes. Since the entire chain of value creation, from growing the cocoa trees to the packaged end product, takes place in Peru, the sale of raw cocoa products is an important source of income for the local population.
Fair payment and the lack of a middleman allow the growers to gain the maximum profit from the sale of cocoa pods. Organic cultivation also allows plants and soil to produce the highest possible yield: since the plants ripen in mixed culture on the plantations and no harmful pesticides are used, the agricultural land can be used continuously.
Pure and cold-pressed
Conventional cocoa butter is roasted and steamed, and in the process it loses important natural nourishing ingredients and aromas. The raw cocoa butter from Villa Andina is gently processed in a complex procedure, which results in the highest quality – pure and cold-pressed. All the valuable natural ingredients are preserved in their entirety. The colour of the butter is very light and pure, making it ideal for cosmetic purposes. Thus cocoa butter, besides its purpose as a foodstuff, is also used as a component for delightfully fragrant body care products which protect the skin against dryness and give it a sensual fragrance.    
A chocolatey skin-care experience
Because it is so good for the skin, cocoa butter is a classic natural constituent for cosmetics. It is used in the production of lipsticks and as a nurturing ingredient in lotions, bath additives and skin creams. Cocoa butter protects the skin, leaving it velvety soft, and is ideal for stressed and very dry skin. And the beguiling scent of chocolate makes it something special.
With finest Cocoa Butter
These i+m products contain organic cocoa butter from Peru: