i+m FAIR Editions
Beautiful for a good cause: The FAIR Editions are a world improvement activity by i+m NATURKOSMETIK BERLIN. We support small, eco-fair start-up projects with 100% of the proceeds of this Fair Editions. This limited special editions are solely created, produced and sold for this purpose.
For the good cause – and all skin & hair types
The idea behind FAIR Editions by i+m
The FAIR Editions idea was born in 2013 out of the wish, to support small, eco-fair start-up projects. In a manner of the crowdfunding principle, i.e. many individuals finance a project together – in our case by buying the FAIR Edition.
It works like this: we find a project that's worthy of support and best suits us and our values. We than create and produce a FAIR Edition for it – of course all expenses on us. We sell it in our shop and offer it to our merchandizers. The merchandizers should donate their trade margin as well. Together we advertise the product to enhance publicity and raise the level of awareness about the project. After the sale, 100% of the proceeds goe straight from i+m to the project. Usually the FAIR Editions got a sales value of approximately 10.000 Euro. That's a significant amount for a small project and a substantial contribution to further develop the wonderful idea and project.
And everyone is a winner – 'cause together we are strong!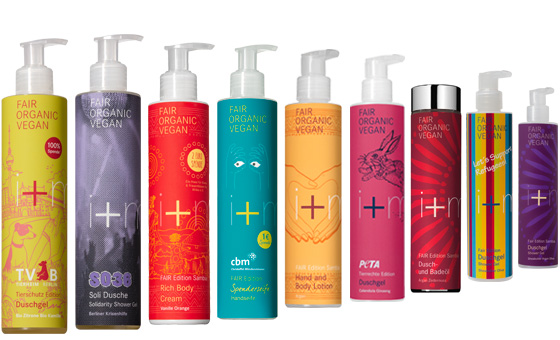 i+m FAIR Editions since 2014
The FAIR Edition Sambia
With the FAIR Edition Sambia, body and soul are treated equally: 100% of the sales proceeds go to the women's shelter in Zambia initiated by i+m, which offers women in Africa affected by violence protection and help for self-help. These funds enable the women there to build a new self-determined future for themselves.
Every year, the income is used to finance various expansions and further developments of the women's shelter in order to encourage and empower the women residents of the shelter to become independent:
a horticultural project that serves the residents as a means of self-sufficiency and at the same time as a training measure for horticulture and healthy nutrition
a sewing workshop to further expand the training opportunities for women there
a women's education project that uses the neighbouring school building of our cooperation partner in the evening hours for an educational offer specially developed for the women in the women's shelter.
an orphanage that is open above all to women and girls, for whom no long-term perspective can be found
Our long-term aim is to build other women's shelter in Africa. For that reason we founded the non profit organization "Frauenhäuser für Africa e.V.".
But to finance all that on our own, we are too small. That's why we are looking for partners in this venture. Maybe YOU? Read more about it here.