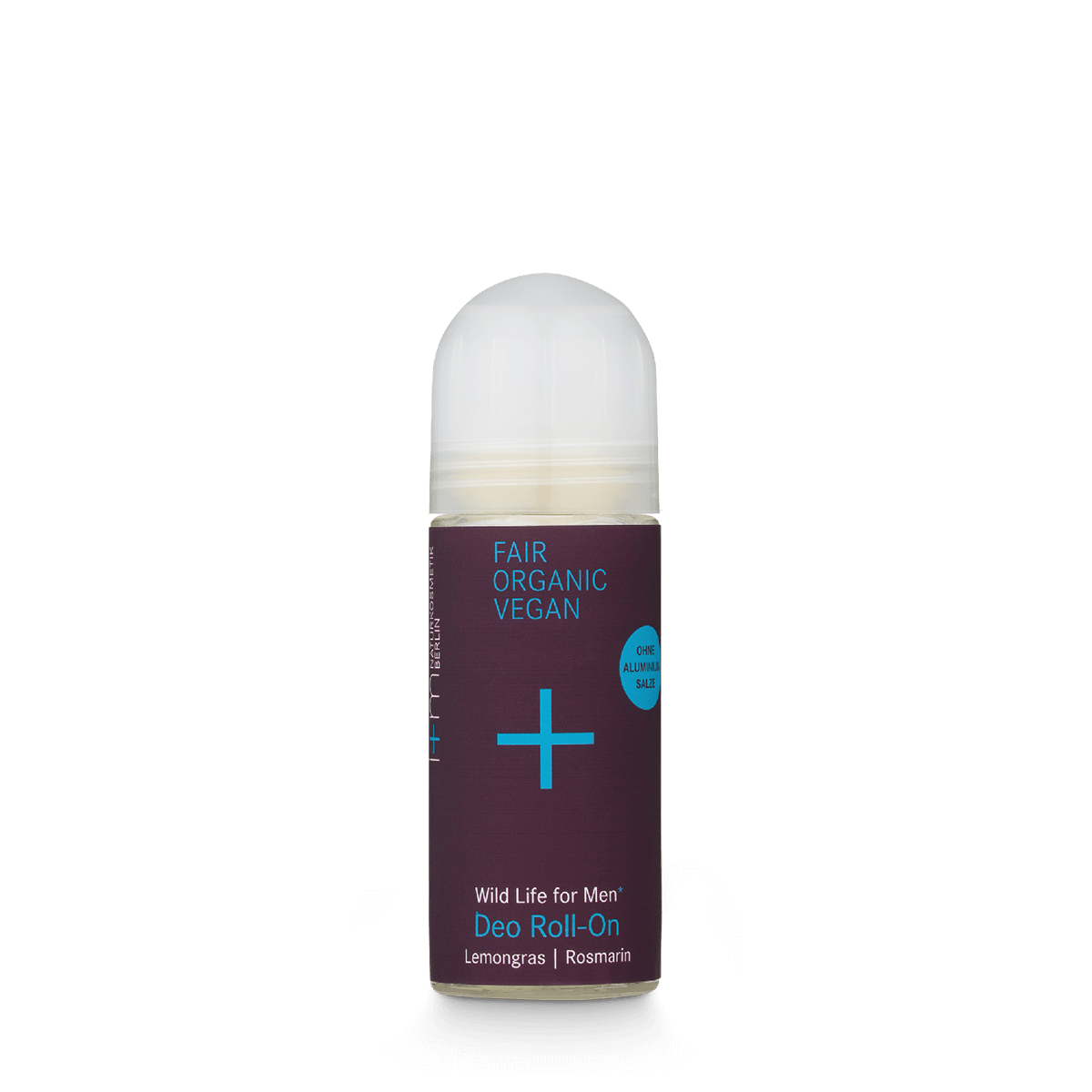 Effective and long-lasting. Wild Life for Men* Deo Roll-On stops body odour immediately with its natural formula – without aluminium.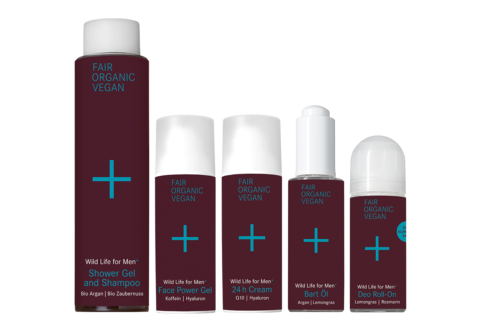 View product line
9,90 €
Content: 50 ml
19,80 € / 100 ml
Free shipping with DHL GoGreen from 25 € (D, AT)
We donate 25% of our profit
Productdescription

Naturally effective, fresh and aromatic

Wild Life for Men* Deo Roll-On deodorises with its effective formula in best organic quality and refreshing lemongrass unisex fragrance. The sophisticated composition of rosemary, bicarbonate of soda and zinc protects effectively and safely against uninvited odours – without alcohol, aluminium salts or alum.

This way, Wild Life for Men* deodorant successfully provides everyone with long-lasting deodorant protection, instantly and at any time.

Lemongrass, rosemary and zinc

Rosemary's antibacterial effect and its tangy, aromatic fragrance complement the citrusy scent of lemongrass. At the same time, sodium bicarbonate and zinc provide mineral deodorant protection from morning to night. Without interfering with the skin's natural sweat regulation, they neutralise and deodorise even body odour that has already developed. The Wild Life for Men* Deo Roll-On quickly leaves your skin feeling naturally fresh.

Fresh and well-groomed with natural deodorant protection

The handy deodorant roll-on does way more than just freshen up your armpits. The sensitive underarm skin is gently nurtured with valuable fair-trade almond oil. Vitamin E promotes wound healing, perfect after shaving. Aloe vera soothes it at the same time. As a deodorant roll-on, the environmentally friendly glass roller is also immediately on hand to provide every armpit with ideal care – from morning to night.

* Cares for each and everyone beautifully.

INCIS

AQUA, ALOE BARBADENSIS LEAF JUICE* (ALOE VERA*), PENTYLENE GLYCOL, ZINC RICINOLEATE, PRUNUS AMYGDALUS DULCIS OIL* (ALMOND*), OLEA EUROPAEA FRUIT OIL* (OLIVE*), Tapioca Starch*, SODIUM BICARBONATE, BUTYROSPERMUM PARKII BUTTER (SHEA BUTTER), ROSMARINUS OFFICINALIS LEAF EXTRACT* (ROSEMARY*), CYMBOPOGON FLEXUOSUS OIL* (LEMONGRASS*), THYMUS VULGARIS LEAF EXTRACT (THYMIAN), HUMULUS LUPULUS EXTRACT (HOPFEN), TOCOPHEROL (VITAMIN E), XANTHAN GUM, SODIUM STEAROYL GLUTAMATE, GLYCERYL CAPRYLATE, HELIANTHUS ANNUUS SEED OIL (SUNFLOWER), SODIUM PHYTATE, ALCOHOL, PARFUM**, CITRAL**, CITRONELLOL**, GERANIOL**, LIMONENE**, LINALOOL**

* organic agriculture
** from natural essential oils

100 % natural origin of the total product
34 % organic portion of the total product

More information in our glossary of ingredients.
Usage

Spread the deodorant over the underarms as needed and enjoy the day or night ahead, refreshed.

Absolute top feature

Even existing body odour is neutralised by the Deo Roll-On – immediate and at anytime. The times of unwanted body odour are now officially passé.

Product tips

Natural cosmetic deodorants vs. aluminium deodorants: Conventional deodorants with aluminium or alum constrict and close the sweat pores. In this way, they suppress natural perspiration, which denies the body its necessary cooling. With our deodorants, the body's own air conditioning system can continue to run – only the development of body odour is prevented.
It pays to switch: When switching from a conventional deodorant to a natural cosmetic deodorant, you may experience increased perspiration at first. But don't panic: This will regulate itself to a natural level as soon as the sweat pores have become accustomed to their regained freedom. Then the pleasant feeling on your skin will reward you for making the change. Finally, no daily intake of controversial ingredients and never again irritated skin – even after shaving.