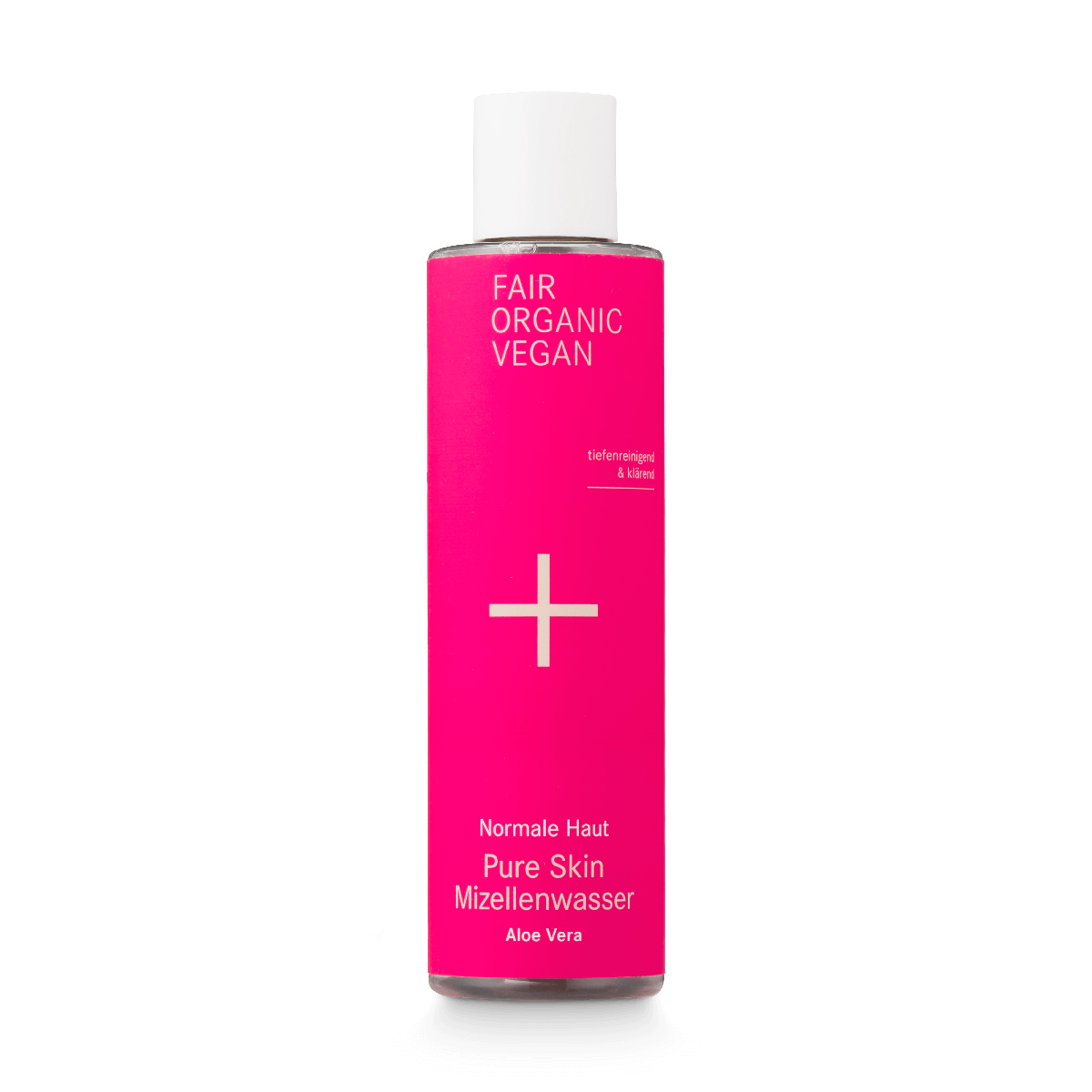 Gentle and deep cleansing. Pure Skin Micellar Water completely removes make-up from every skin and contains fair-trade organic aloe vera for a toning effect – sulphate and fragrance free.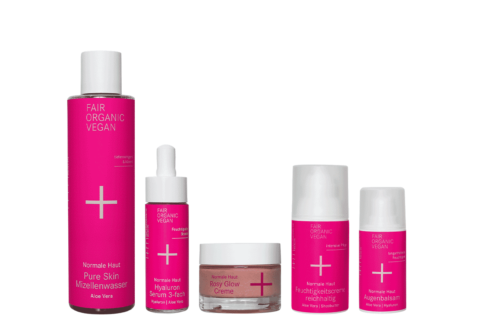 View product line
9,90 €
Content: 200 ml
4,95 € / 100 ml
Free shipping with DHL GoGreen from 25 € (D, AT)
We donate 25% of our profit
Productdescription

Clarifying micellar water for added moisture

The Pure Skin Micellar Water gently but effectively removes make-up and other residue from any type of skin. Thanks to its innovative micellar nanostructure, it cleans skin deep into the pores – with no sulphates, perfume or dehydrating alcohol. At the same time, this clarifying facial toner provides soothing moisture with its fair-trade organic aloe vera. Deep cleansing and moisturising care for fresh skin, inside and out.

Facial cleanser with micellar technology

Micelles are highly effective at bonding with both water and fat-soluble substances for intense cleansing properties. The innovative nanostructure consists of the tiniest molecules, which can penetrate deep, even into the fine pores of normal skin, enabling the direct removal of dirt particles. Meanwhile, gentle, plant-based sugar surfactants clean the surface of the skin for a radiant and clean complexion. So this unscented micellar water for normal skin gently but thoroughly removes make-up and other residue from facial skin – fragrance-free, sulphate-free and hypoallergenic.

Moisturising care with aloe vera

The cleansing facial toner for normal skin also avoids any dehydrating alcohol in its formula. Instead, micelles transport nourishing substances precisely where they are needed to restore oil and moisture in the skin. Here they can provide direct protection and support for the skin's own moisture content. High-quality, fair-trade aloe vera from organic sources provides that special added moisture for subsequent skin care.

INCIS

AQUA, ALOE BARBADENSIS LEAF JUICE* (ALOE VERA*), CAPRYLYL/CAPRYL GLUCOSIDE, ZINC LACTATE, CAPRYLYL GLYCOL, GLYCERYL CAPRYLATE, PROPANEDIOL, DECYL ALCOHOL

* organic agriculture

100 % natural origin of the total product
10 % organic portion of the total product

More information in our glossary of ingredients.
Usage

Soak a cleaning pad with micellar water. For cleansing or removing make-up, just wipe over face and lips.

Product tips

Remove make-up sustainably: Reusable cosmetic or konjac sponges and flannels are true all-rounders. They don't lint and are kind to the environment, but their special feature is that they also gently stimulate the skin's circulation. As a result, the skin of the face glows with a wonderfully rosy freshness just as soon as you apply the micellar water.
Care routine: After cleansing with the moisturising micellar water, an extra care treatment with a light serum is ideally applied as preparation for the face cream. The products in our series can be mixed and matched according to the skin's needs.