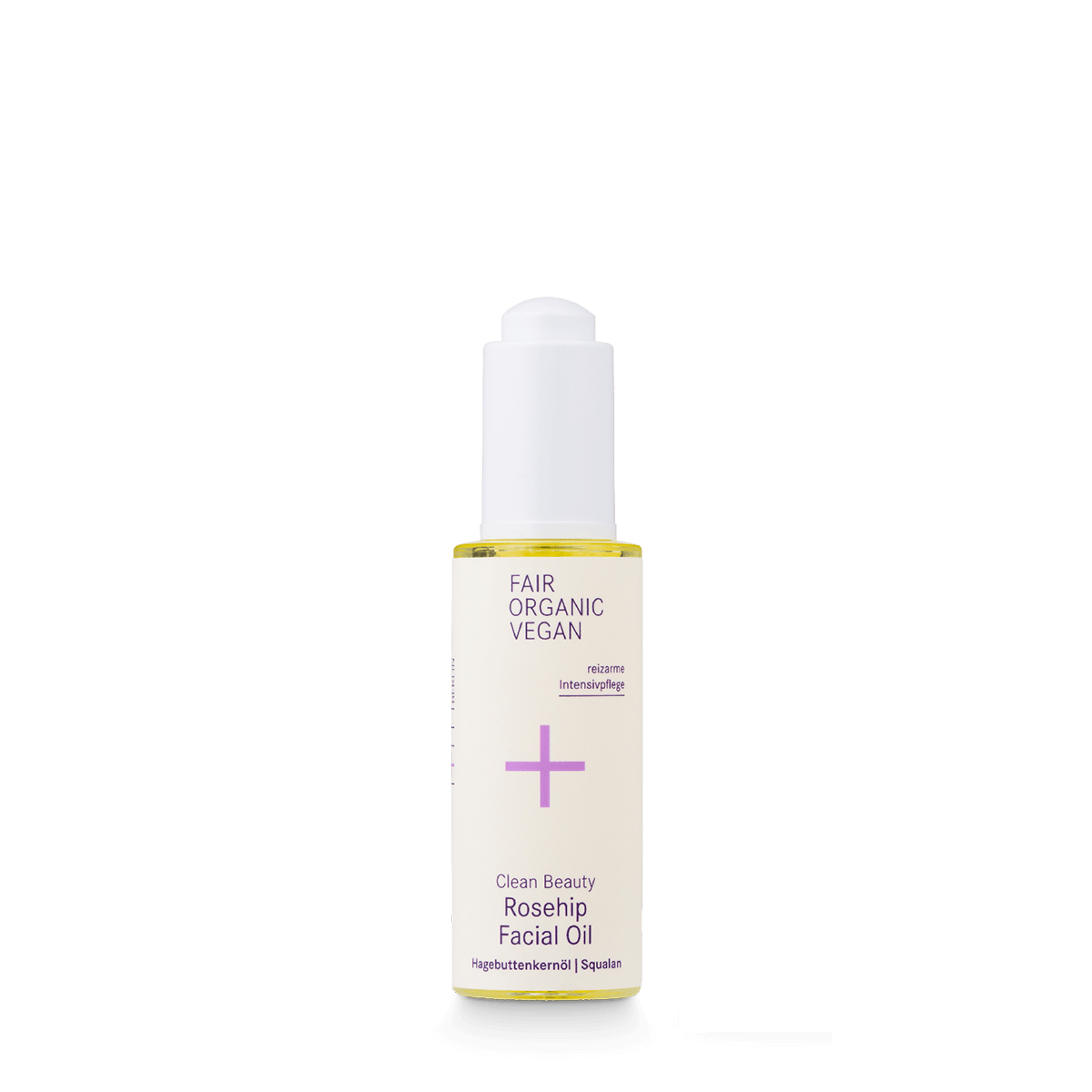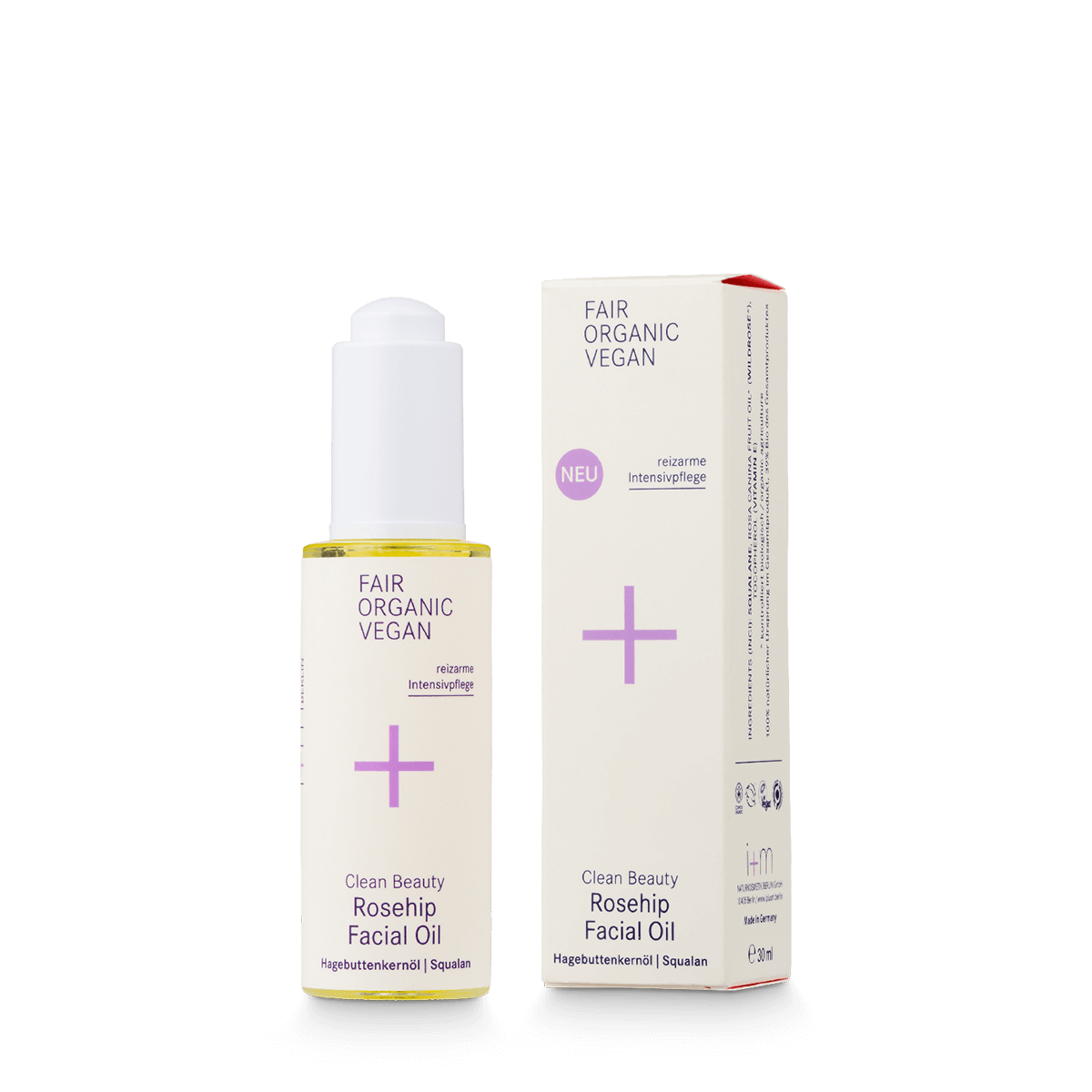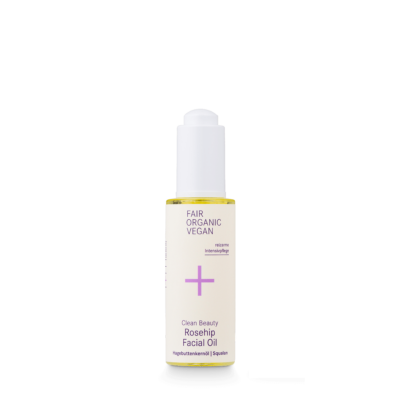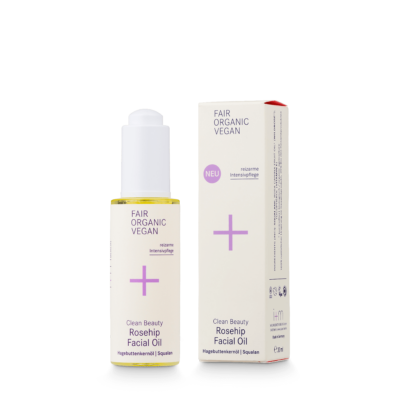 Gentle regenerative care. With its mellow organic rosehip oil, Clean Beauty Rosehip Facial Oil offers intense skincare for all skin types — particularly low irritant in formula.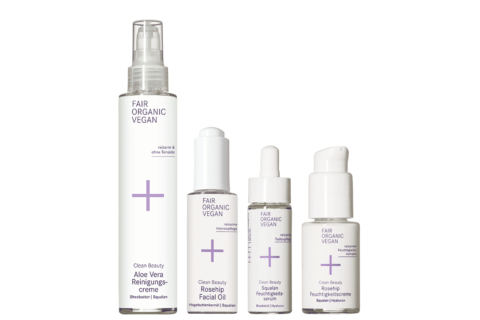 View product line
16,90 €
Content: 30 ml
56,33 € / 100 ml
Free shipping with DHL GoGreen from 25 € (D, AT)
We donate 25% of our profit
Productdescription

So gentle! Low irritant facial oil with no additives

The gentle Clean Beauty Rosehip Facial Oil ensures all facial skin is smooth, supple and resilient. Thanks to low irritant antioxidants and a simple formula, Clean Beauty Facial Oil offers sensitive balance even for very exposed facial areas. Exquisite organic rosehip oil and nourishing lipids provide intense all-round skincare — with no fragrance or allergens.

Rosehip, squalane and vitamin E

Rosehip oil from certified organic sources contains gentle moisturising agents to promote skin regeneration. This natural oil from the seeds of the wild rose is complemented by squalane from organic olive oil, and restorative vitamin E. By helping the skin retain its natural moisture, Rosehip Facial Oil promotes elasticity in tired skin.

As well as offering intense skincare, this low irritant facial oil with rosehip helps stabilise the skin barrier. Thanks to antioxidant cell protection, it prevents sun damage, such as pigmentation spots, and inflammation. Beta-carotene — with its distinctive colour — is a precursor of vitamin A, which releases free radical scavengers to combat fine wrinkles and lines.

The Clean Beauty Oil offers rich, all-round skincare and is absorbed without leaving any residue or creating a breeding ground for impurities. With its light nutty fragrance, Rosehip Facial Oil brings a gentle sunny glow even to tired skin.

So clear! Clean Beauty for gentle skincare

Based on carefully selected plant-based ingredients, the Clean Beauty range uses simple formulas to offer skin-friendly facial care, free from potentially irritating additives:

no fragrances or allergens, such as essential oils
no preservatives, such as alcohol
no parabens, silicone, sulphates or microplastics

Thanks to its low irritant formula, Rosehip Facial Oil offers flawless skincare for a beautiful complexion while also ensuring excellent cleansing characteristics.

INCIS

SQUALANE, ROSA CANINA FRUIT OIL* (WILD ROSE*), TOCOPHEROL (VITAMIN E)

* organic agriculture

100% natural origin of the total product
39% organic portion of the total product

More information in our glossary of ingredients.
Usage

In the evening, after cleansing and while the skin is still damp, apply a few drops to the face, neck and décolleté and massage in gently. If required, use a face cream afterwards.

Product tips

Care routine: After cleansing, toning and a moisturising serum, Rosehip Facial Oil should be applied to damp skin. This way, it is easier to spread, absorbs faster and preserves the skin's own moisture. The dosage is also crucial: only a few drops are needed for the entire face. No more.
Regenerating night care: During the night, the skin recovers from the stresses and strains of the day. After cleansing in the evening, an extra care treatment with the nourishing facial oil is recommended. Pure or mixed with a fluid or serum in your hand – Rosehip Facial Oil does both! Spread on the face, neck and décolleté, and the skin can regenerate carefree overnight and looks soft and rosy the next morning.
Extra intensive skin care: To increase the richness of your facial care or mask, add 2-3 drops of Rosehip Facial Oil and mix in your hands. For dry skin, apply the non-irritating facial oil locally to the affected, moistened areas and gently massage in – also a treat anywhere on the body.
First-class instant care: A true all-rounder, pure oil preserves the moisture of skin and hair. Simply rub 1-2 drops of Rosehip Facial Oil into your fingers and apply to the dry ends of your hair. Thanks to its precious lipids, it leaves dry ends smooth and intensively nourished.
Ingredients

Ingredients

Vitamin E

Vitamin E ist ein natürlicher Bestandteil vieler Pflanzenöle. Unser zugesetztes Vitamin E stammt aus der Sojabohne. Neben seinen antioxidativen und zellschützenden Eigenschaften wirkt es hautpflegend, glättend und zellerneuernd.

Rosehip

Rosehip soothes and strengthens stressed skin: The extract from the Rosa Canina rose has an astringent (astringent) effect, which above all supports the healing of impure skin areas and prevents further inflammation.