The fabulous i+m illustrations
What is it actually about our wonderful animal illustrations? The resolution can be found here: Our goal was to emphasize the political and sustainable values of i+m and to communicate them openly. To this end, we developed political slogans that are relevant to us, which the London artist duo Good Wives And Warriors transformed into illustrations with us.
The main motifs are chosen from the animal kingdom and are complemented by floral elements of our natural, herbal ingredients. Each i+m product series has its own motif with a matching slogan. The leitmotif of the entire campaign and at the same time our future motto: CHANGE THE WORLD WITH BEAUTY!
---
i+m NATURKOSMETIK BERLIN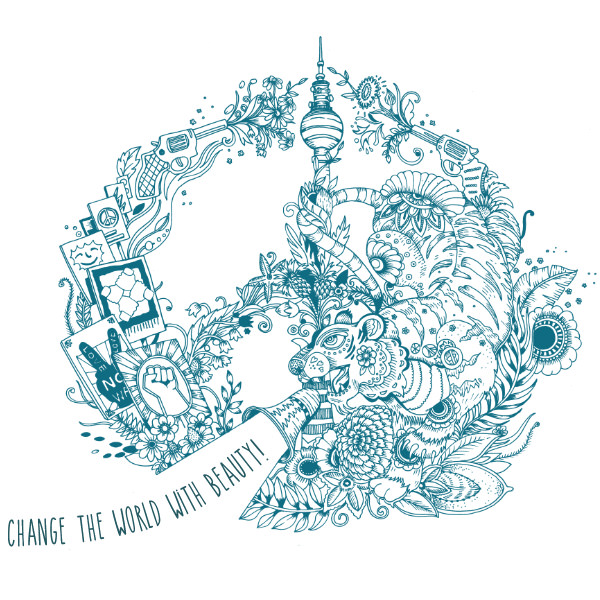 The tiger illustration symbolizes us as a natural cosmetics brand with a political claim. The dynamic tiger is, so to speak, the i+m heraldic animal. The demonstration posters underline our will to also have our own political opinion as a cosmetics company and to stand up for it. Because beautiful is not always stupid.
Our idea of beauty is less bound to outward appearances, but rather corresponds to the desire for change for the better and more beautiful. Our courage for social change and for words to be followed by deeds can be found in the details of the drawing. All this is spiced with a pinch of humour and a dash of Berlin self-irony.
---
Phyto Balance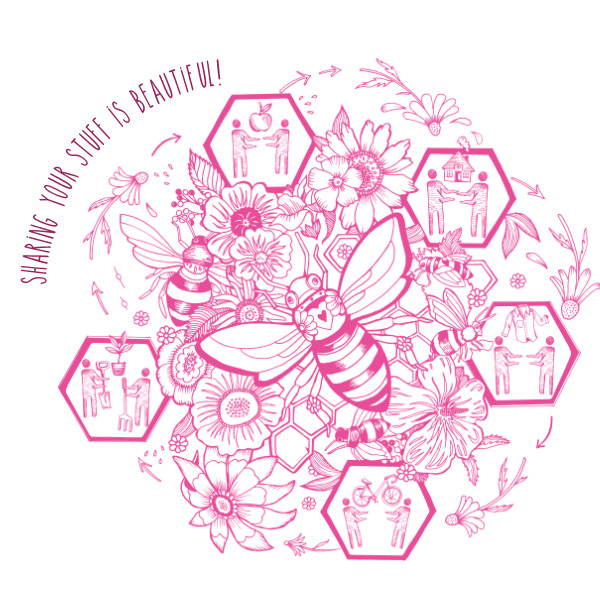 Our team lives and supports this principle in private life in the form of clothing exchange, urban gardening, couchsurfing, refugee aid, food and bike sharing. Sharing is the new way of owning.
But i+m as a company has also committed itself voluntarily and out of conviction to the common-wealth economy. A considerable part of the company profits (approx. one quarter) is donated for ecofair purposes. Every i+m employee also has a certain amount of donations available to support selected projects – of course in line with the company values FAIR • ORGANIC • VEGAN!
The wish for a sharing economy was also the introduction of the i+m FAIR Editions, 100% of whose proceeds flowed into our i+m women's shelter in Zambia or into the development of other ecofair projects. A suitable example from the animal kingdom seemed to us to be the bees that tirelessly distribute pollen in the course of their work and thus actively contribute to a balanced ecosystem.
---
Hydro Perform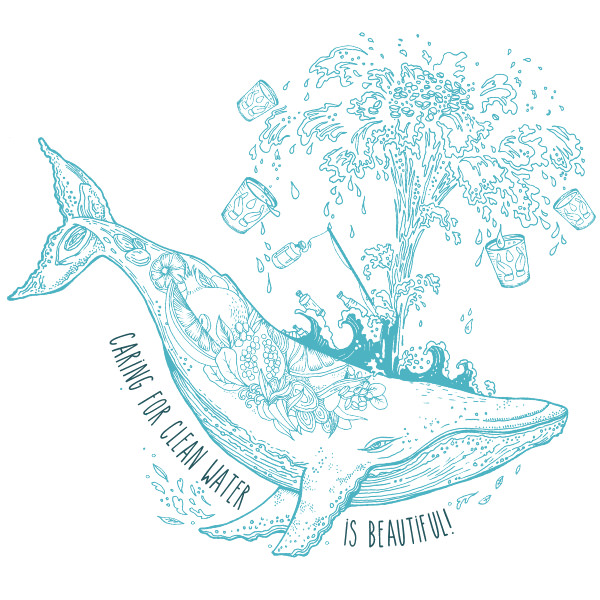 The right to access clean water has been recognized as a human right by the United Nations in 2010. Industry and agriculture do not seem to have noticed this and consume it as if there were an inexhaustible supply. But that is not the case. Water scarcity has already set in and is threatening our entire ecosystem.
We believe that a sustainable use of water worldwide is absolutely essential. Therefore, the conservation of resources is and remains a declared goal for i+m. We always produce with a view to minimum use of resources and optimum recyclability (cradle to cradle principle) and deliberately avoid secondary packaging waste. Our ingredients are vegetable, natural and biodegradable.
The whale – strong and gentle, compassionate and social, wise and enigmatic – is also an endangered species and in our illustration represents marine conservation. The cups symbolize the right to water and the bottles refer to the problem of pollution of the sea by plastic.
---
Age Protect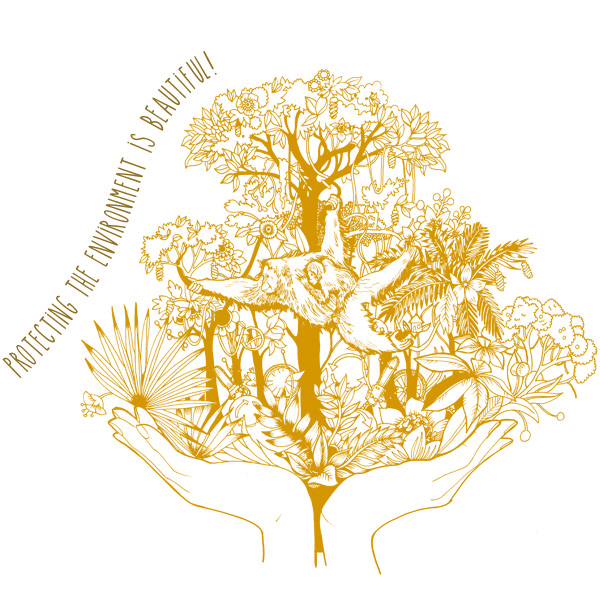 Environmental protection begins with everyone – in their own consumer behaviour and the daily handling of the earth's resources. Well, that calls for personal initiative. And we gladly accept the challenge.
We focus on pure nature and the highest organic quality in our assortment. We do without silicones, paraffins, phthalates and microplastic beads or genetically modified ingredients. Animal ingredients or ingredients tested in animal experiments are generally not used in our dispensers. We pay our suppliers fair prices for their precious raw materials and their good work. To avoid waste, we use recyclable packaging and avoid unnecessary outer packaging such as cartons or boxes from the outset. And we are constantly working to improve our ecological balance.
The Age Protect series and the Orang Utan worn on protective hands in the rainforest seemed just right as a symbol for the incredible beauty of nature and the need to protect the environment.
---
Age Plus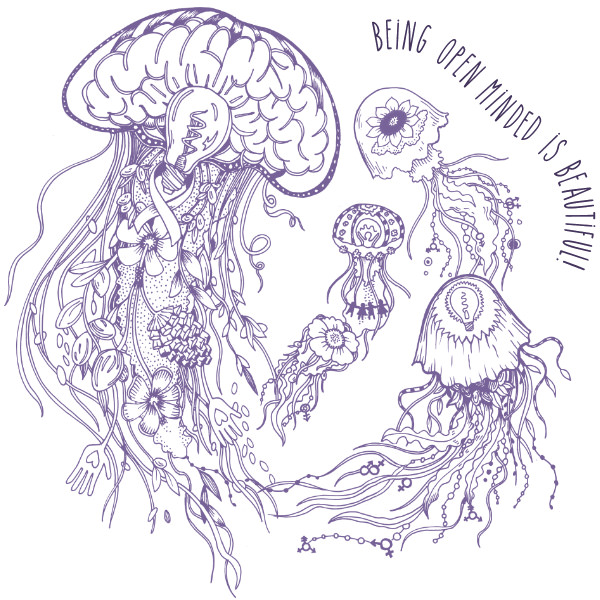 The biggest problem zone in old age is the head. But not only in old age, one might think when looking at certain political camps. Keeping the mind open would be our tip for a meaningful life. An example? View diversity as a strength rather than a threat.
Gender diversity alone offers far more exciting nuances than one might think: feminine and masculine and neither or both at the same time, as well as trans, inter and queer and everything else beyond. In order to include the entire diversity, we like to use the Gender Star* in our German texts. The intention is to give through the * a reference to those people who do not fit into the woman-man scheme or do not want to fit into it. Because language shapes our thinking.
The different beauty of the jellyfish, its fascinating transparency and its sometimes bisexuality have made it the perfect symbol for this illustration – and our Age Plus series.
---
Madame Inge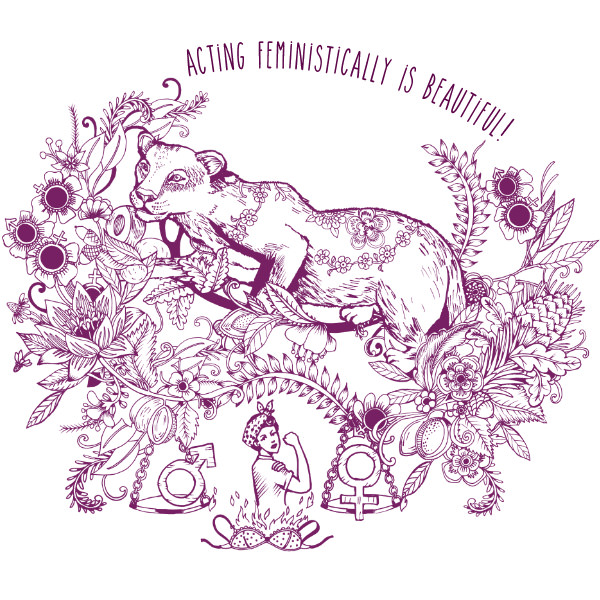 As a convinced feminist, the political, economic and social equality of the sexes was already a matter close to the heart of our company founder Inge Stamm. And we feel the same way. Gender-independent pay and equal opportunities have been in place at i+m internally for a long time and now we are even on our way to self-management (holocracy).
Our Madame Inge series is a tribute to Inge Stamm, one of the most experienced developers* of German natural cosmetics, organic pioneer and women's rights activist. She founded i+m Manufaktur in 1978 and managed it for 35 years. For decades she has had a decisive influence on German natural cosmetics with innovative products and revolutionary ideas. Even today, our recipes are based on her creations.
The unadjusted lioness ready to jump over the balanced gender weighing pan seemed to us to be a suitable metaphor for this care series. Please also note the burning bra, which of course should not be missing in this illustration.
---
Freistil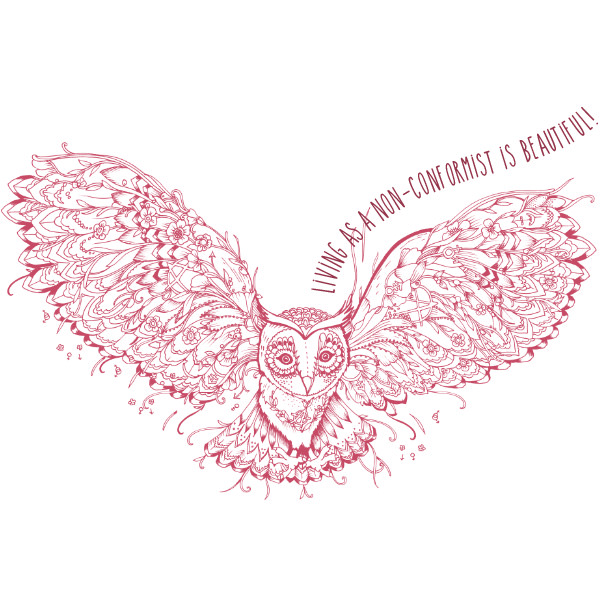 Inappropriateness seems to us to be a strongly underestimated positive quality in today's society. In our opinion, conformity and standardization, pressure to perform and group pressure stand in the way of a meaningful way of life. Apparent contrasts – such as cosmetics and political consciousness – are an enrichment for i+m and distinguish us.
This is what the majestic owl stands for in free flight, a loner in the night. She complements our freestyle series perfectly, which is pure and completely free of perfume.
Moreover, all i+m products are free of additives that are not useful or good for the skin, such as animal or animal-tested ingredients, parabens, chemical preservatives, silicones, paraffins, phthalates and microplastic beads, aluminium salts or genetically modified ingredients (GMO). And with this freedom we act highly unconformist in the beauty sector, even for a natural cosmetics brand.
---
Berlin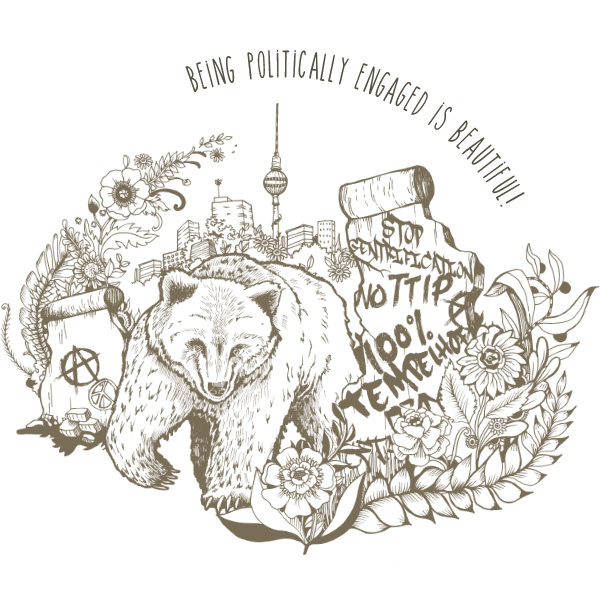 As genuine Berliners and children of the late 70s, we naturally have a certain affinity for political consciousness. Demos belong to our hobbies and referendums to the good tone. For us, Berlin is the ideal place for our work, because here things happen that elsewhere are considered subversive and are prevented as far as possible.
We are constantly working on our street credibility in Berlin and are involved, for example, in the Refugee Welcome project Die Gärtnerei.Berlin, in which young fugitives, together with artists and neighbours, transform a former cemetery in the middle of Berlin into a nursery. Or the Radbahn,which transforms the forgotten space under Berlin's famous U1 elevated railway into a pulsating urban main artery of cycling – for more environmentally friendly mobility in our city. Or the independence of the Tempelhof airfield as the largest alternative leisure project without commercial use in the heart of Berlin.
What could be more fitting than the Berlin bear taking a casual stroll through the graffiti-sprayed remains of the Wall in front of the picturesque backdrop of the television tower. Well nothing.
---
Hands and More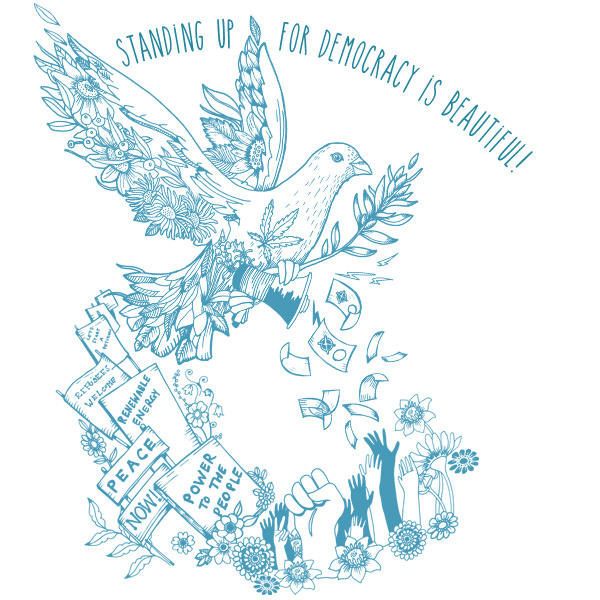 Fortunately, we live and work in a democracy. Free elections, protection of minorities, acceptance of political opposition, protection of fundamental and civil rights, respect for human rights, freedom of expression and freedom of the press to form political will are just some of the advantages of this form of government. We find them worth protecting and supporting, which is why we often come across demos. We also actively and gladly use democratic means such as petitions and referendums. Or as contemporary music decorators put it so nicely: You gotta fight for your right (to party)!
For us, a well-founded engagement with political issues is always also a broadening of our own horizon. Yes. The theme of active democracy and the Hands and More series are, of course, a successful combination. And for us as convinced pacifists*, the dove – here with megaphone and diligently distributing ballot papers – as a symbol was of course obligatory. 😉
+ to the Hands and More series
---
Tausendschön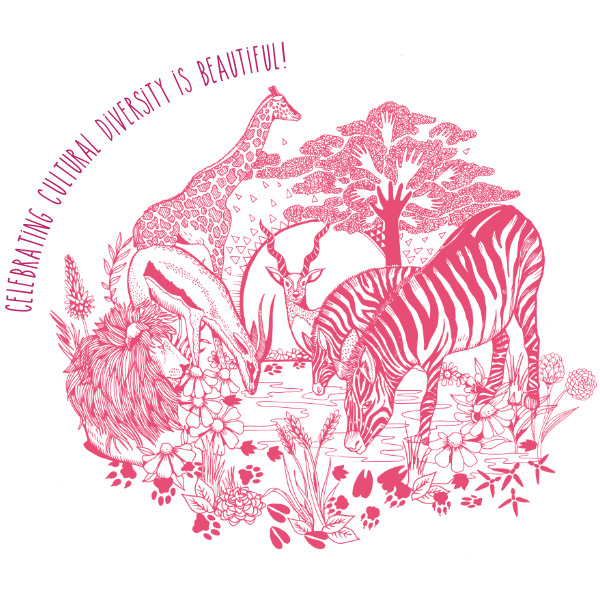 If "a more beautiful world" were a food, our ingredients would be openness, tolerance and diversity. Whereas gender, skin colour, disability, age, religion, sexual orientation and social background would be the spices for this tasty dish. Sounds delicious, doesn't it?
We want to actively participate in the beautification of the world, according to the motto "Is the world too narrow for you? Make it far." We have set ourselves the goal of constantly broadening our horizons in order to discover the unknown – to always remain open to new and different things. And we want to inspire others to do the same. Our fair initiatives all over the world testify to our desire for diversity. And our blog is supposed to convey our diversity of ideas to the outside world and deal with various topics.
The ecological system savannah and the waterhole as meeting point of the most different animals pleased us as symbol for this topic supergut.
---
Hair Care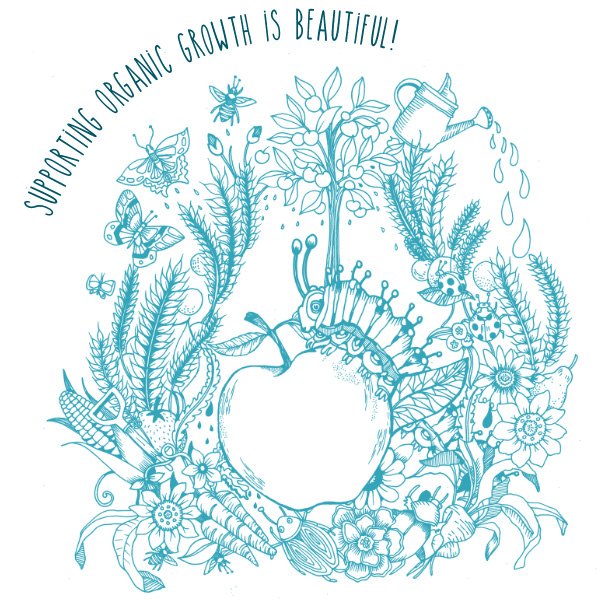 In the 1970s the organic movement had its beginnings – just like us. Because i+m belongs to the real organic pioneers (bioneers so to speak, haha!). The first Bios – exactly, those with the dungarees – were conviction culprits. They were not interested in optimising performance through nutrition, culinary delicacies or economic success. Bio actually supports an attentive use of resources, an agriculture without chemistry and an alternative form of economic activity.
All this was also important for us from the very beginning. For i+m it also meant that our own raw materials were used in our products as pure and natural as possible and processed as gently as necessary – and this is still our conviction today. The illustration with the caterpillar on the apple, surrounded by frugal variety, gets to the point perfectly. By the way, the watering can should also include the topics Urban and Guerilla Gardening, which we also love very much.
---
Wild Life for Men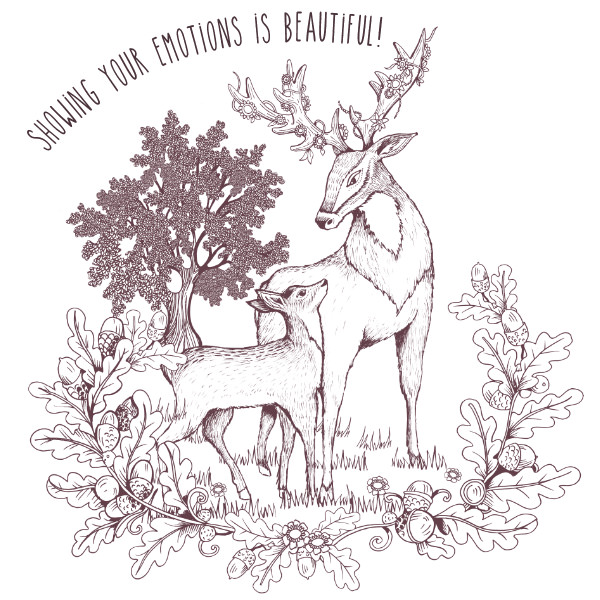 In an achievement-oriented society like ours, feelings are sometimes alienated. Empathy and altruism are perceived as career inhibitors and feelings are kept under lock and key. We as self-proclaimed game rule improvers* have decided to counteract this and are breaking new ground in business culture. In a reinventing process, we create new ways of working together as a team. #New Work #Holacracy
An important part of this is the need to be able to show oneself as a whole – yes, even in the workplace. We want to create a place to work in our small shed where everyone can feel safe and show themselves as human beings – including emotions and all zippers and zippers. It is important for us – especially in the digital age – to get back in touch with other people and nature. Do-gooders and treehuggers? Sure, always with pleasure.
The fatherly stag with the small fawn and the loving look that both throw at each other should be an expression of all this and represents our Wild Life for Men series excellently.
+ to the Wild Life for Men series
---
FAIR Editions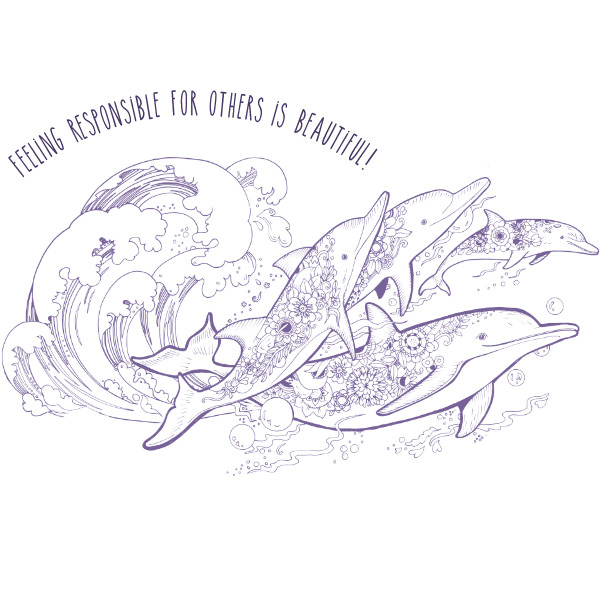 Taking responsibility for one's own actions – towards oneself and others – is not always easy, but always sensible. As is well known, we are supporters of the common good economy, which means making human dignity, solidarity, ecological sustainability, transparency, democratic co-determination and social justice the basis of our own economic trade. In short, we don't just want to embellish skin and hair, but the whole world!
A means to this end are our FAIR Editions:
We find a small project worth supporting that fits well with us and our values. For this project we create and produce a FAIR Edition. Of course everything completely at our own expense – with packaging and everything. After the sale, 100% of the i+m proceeds go directly to the project – without any detours or deductions. Then we are happy and the project operators and their beneficiaries and customers – and everyone has won!
Representing it and the whole FAIR Editon series, the dolphin stands as a being with public spirit and a disposition for helpfulness – and he is also beautiful to look at.
---
The artists
Good Wives And Warriors
The collaboration with the great artist duo Good Wives And Warriors was both an honour and a pleasure. Having chosen the two London artists as ideal partners for our project, we knew that they were used to working on a much larger scale and with much more famous companies. But who does not dare, who does not win, we thought courageously and asked them without further ado. And lo and behold, they were enthusiastic about our concept, our brand and our company philosophy. A harmonious cooperation over months and time zones followed, which resulted in overwhelmingly beautiful illustrations of the GWAWs. Of course we also provided the GWAWs with our natural cosmetics. And meanwhile they are also enthusiastic fans of our products.
Many thanks again and again for the great cooperation, dear Louise and Becky.
+ more info about the origin of the illustrations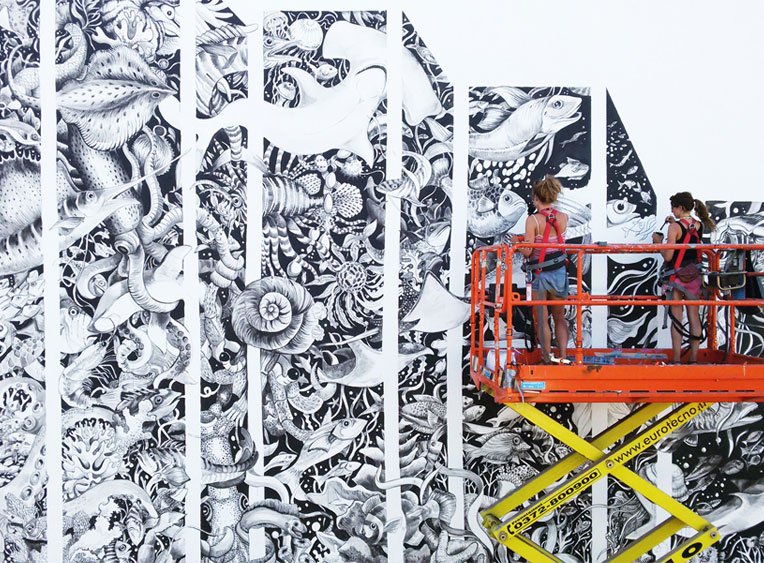 Becky Bolton and Louise Chappell have been working collaboratively as Good Wives and Warriors since 2007, soon after graduating from the Painting Department at The Glasgow School of Art. They divide their time between designing large-scale installations for fine art settings and undertaking illustrations commissions from a diverse range of companies. They have exhibited around the world, including shows in London, Berlin, Paris, Melbourne, Buenos Aires, San Francisco and Sao Paulo. They are currently based in London.
Also very nice!
The FAIR Editions are a world improvement measure of i+m NATURKOSMETIK BERLIN. We support small projects with eco-fair standards, which are still in the process of being built up, with 100% of the profits generated from them. These limited special editions are created, produced and sold solely for these purposes by us.