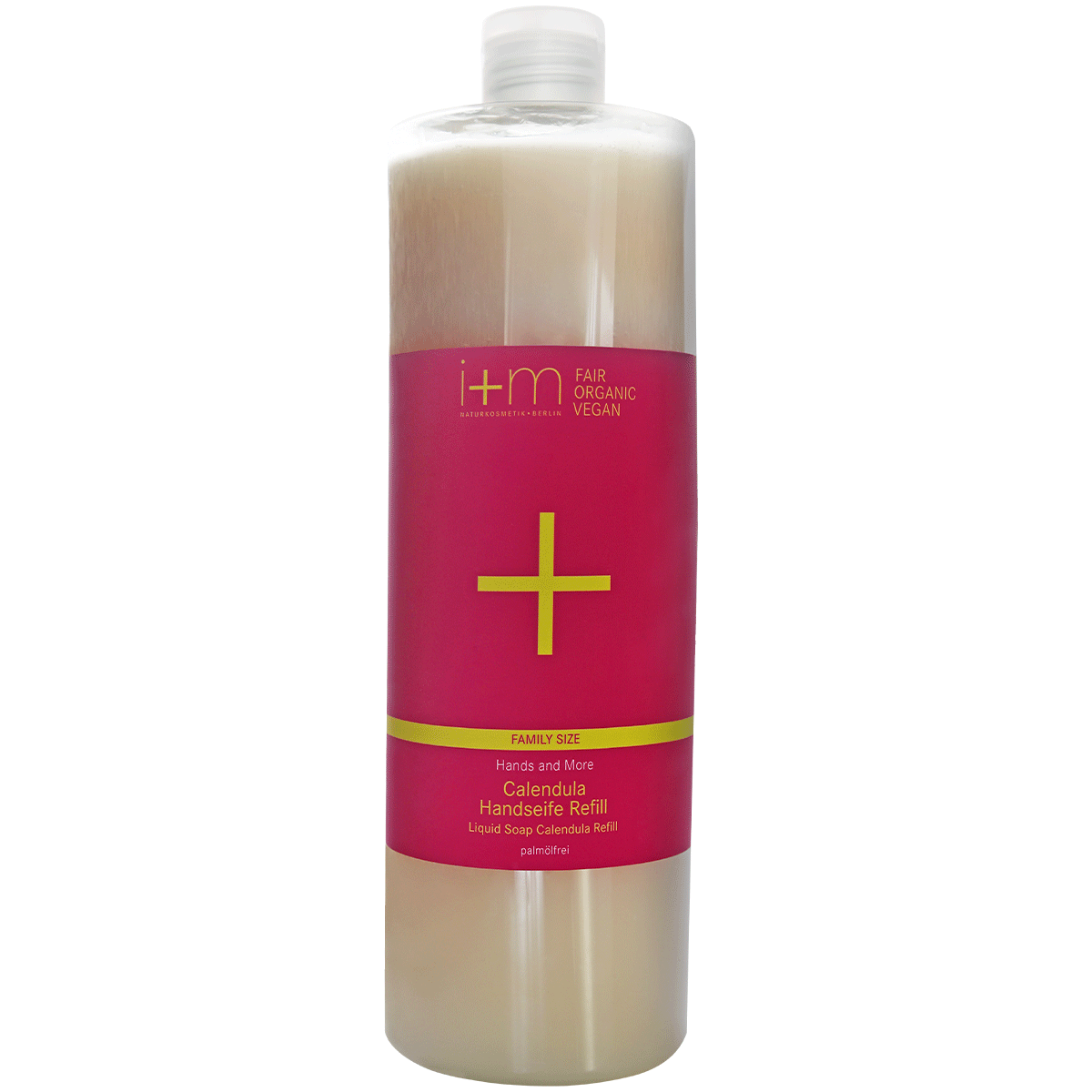 The 1 liter Liquid Soap Calendula Refill in its practical refill packaging cleans gently with fair organic ingredients and a refreshing citrus fragrance – skin-neutral pH and palm oil free.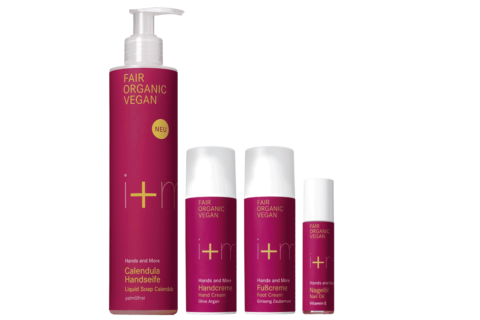 View product line
26,90 €
Content: 1000 ml
2,69 € / 100 ml
Free shipping with DHL GoGreen from 25 € (D, AT)
We donate 25% of our profit
Productdescription

Reduce, reuse, recycle

Calendula Liquid Soap Refill: For all those who can't get enough of our vegan, organic natural cosmetics, but prefer to reduce packaging waste. The 1 litre refill bottle made from 100% recycled plastic contains 4 single bottles for the price of 3. This is not only good for your wallet, but also for the environment.

Wash your hands thoroughly but gently

The Calendula Liquid Soap Refill in its sustainable refill pack cleans hands perfectly thoroughly with mild coconut-based surfactants that are as kind to the skin as they are to the environment. Finest organic extracts soothe even stressed skin during daily hand washing with a skin-neutral pH, sulphate-free and palm oil-free.

Coconut-based surfactants, aloe vera and calendula

Coconut-based surfactants clean your hands all the way to the fingertips. This means that Calendula Liquid Soap consciously abstains from the use of palm oil. The mild detergents clean the hands effectively and gently – and are also easily biodegradable. Meanwhile, fair trade aloe vera intensively moisturises the skin.

A fine calendula extract additionally soothes and regenerates even damaged skin by promoting cell renewal. Calendula is also known and popular as a medicinal plant. Calendula soothes irritations, protects the hands and leaves the skin silky soft. Calendula Liquid Soap's refreshing citrus fragrance rounds off every hand wash.

Environmentally friendly and more

Calendula Liquid Soap Refill offers the whole family, office community or shared flat environmentally conscious, organic natural cosmetics in a generously large refill pack with many advantages:

Less waste: 1 bottle instead of 4
Resource-saving packaging made from 100% recycled plastic (R-PET)
Practical cap for easy refilling
The content of 4 for the price of 3 single bottles
Can be refilled and combined with our stylish wall mounts

INCIS

AQUA, ALOE BARBADENSIS LEAF JUICE* (ALOE VERA*), DISODIUM COCOYL GLUTAMATE, GLYCERIN, SODIUM COCOYL GLUTAMATE, PARFUM***, CALENDULA OFFICINALIS FLOWER EXTRACT* (CALENDULA*), XANTHAN GUM, MICROCRYSTALLINE CELLULOSE, CELLULOSE GUM, LACTIC ACID (PLANT-BASED), POTASSIUM SORBATE, SODIUM BENZOATE, ALCOHOL*, CITRAL**, CITRONELLOL**, FARNESOL**, GERANIOL**, LIMONENE**, LINALOOL**

* organic agriculture
** from natural essential oils
*** natural fragrance mixture
99,4% natural origin in the whole product

More information in our glossary of ingredients.
Usage

Apply to damp hands, then thoroughly soap and rinse hands.

To refill, pour hand soap into the decorative dispenser from i+m or another container – up to a maximum of two fingers below the bottle opening. Then close the soap dispenser.

Product tips

Minimalist refill system: Purchased bottles can be used again and again. Refilled single bottles with our Solo and Duo wall brackets are a particularly effective combination. The elegant bottle floats almost weightlessly on the wall within easy reach. It's magic.
Recycling tip: To aid the recycling process in the best way possible, the bottle, pump and label should be separated before they are disposed of together in the yellow bin.
Recycled is better: The recycled plastic used for the family size bottles – also called recyclate or R-HDPE – has a number of ecological advantages compared to standard HDPE: It reuses an existing resource, thus saving resources, and it is produced without the additional use of petroleum. It also has a lower energy consumption and emits less CO2 during the manufacturing process.