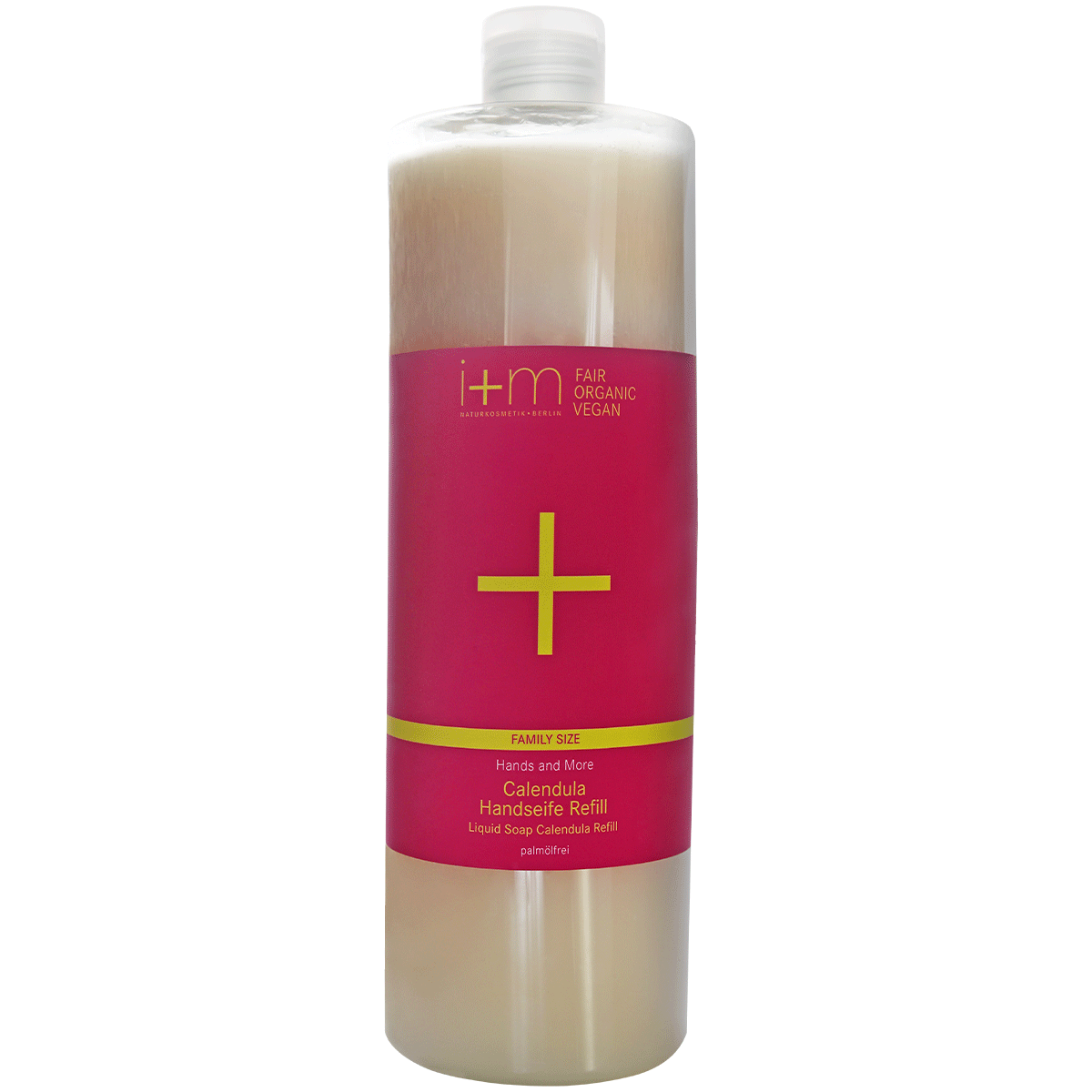 Family Size Liquid Soap Calendula Refill in the practical refill package cleans gently with fair organic ingredients and a refreshing citrus scent – pH neutral and free from palm oil.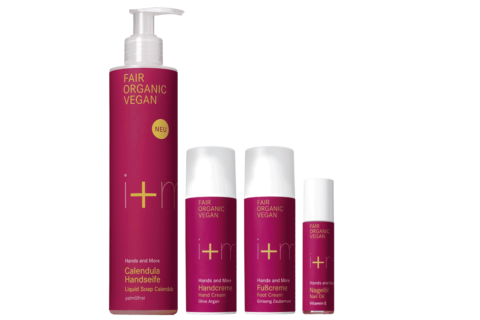 View product line
26,90 €
Content: 1000 ml
2,69 € / 100 ml
Free shipping with DHL GoGreen from 25 € (D, AT)
We donate 25% of our profit
Productdescription

Reduce, reuse, recycle

The Family Size Liquid Soap Calendula Refill: for everyone who can't get enough of our exquisite natural cosmetics but has had enough of superfluous packaging waste. Our 1 litre, 100% recycled plastic refill bottle holds as much as 4 individual bottles of Liquid Soap Calendula. This looks after the environment as well as your purse.

Wash your hands thoroughly, but gently

Liquid Soap Calendula Refill cleans your hands wonderfully thoroughly using mild coconut-based surfactants, and it is as kind to the skin as it is to the environment. Sumptuous organic extracts soothe even stressed skin during your daily hand washing – pH neutral and free from sulphates and palm oil.

Coconut-based surfactants, aloe vera and calendula

Coconut-based vegetable surfactants clean the hands right to the tips of the fingers. At the same time, Liquid Soap Calendula has been deliberately formulated without using palm oil. The ingredients are mild washing substances that clean hands not just effectively but gently – as well as being readily biodegradable. Meanwhile fair trade aloe vera intensively moisturises the skin.

A fine extract of calendula adds a soothing effect and regenerates even stressed skin by boosting cell renewal. Calendula is familiar as a popular medicinal plant. It alleviates irritation, protects the hands and leaves the skin on the hands feeling soft. The refreshing citrus fragrance of Liquid Soap Calendula adds the finishing touch to every hand wash.

Environmentally friendly and more

Our Family Size range offers natural organic cosmetics in ample quantities for the whole family, a shared flat or work colleagues, with many benefits:

instead of 4 individual 250 ml bottles = 1 litre Berlin Shower Gel
resource-efficient packaging made from 100% recycled plastic (rHDPE)
practical bottle cap for easy refilling
4 for the price of 3 on individual bottles
perfect for combining with our stylish wall mounts

INCIS

AQUA, ALOE BARBADENSIS LEAF JUICE*

(ALOE VERA*)

, DISODIUM COCOYL GLUTAMATE, GLYCERIN, SODIUM COCOYL GLUTAMATE, PARFUM***, CALENDULA OFFICINALIS FLOWER EXTRACT*

(CALENDULA*)

, XANTHAN GUM, MICROCRYSTALLINE CELLULOSE, CELLULOSE GUM, LACTIC ACID (PFLANZLICHE MILCHSÄURE), POTASSIUM SORBATE, SODIUM BENZOATE, ALCOHOL*, CITRAL**, CITRONELLOL**, FARNESOL**, GERANIOL**, LIMONENE**, LINALOOL**

* kontrolliert biologisch/organic agriculture ** aus ätherischen Ölen/from natural essential oils *** natürliche Duftmischung/natural fragrance mixture 99,4% natürlicher Ursprung im Gesamtprodukt

More information in our glossary of ingredients.
Usage

Apply to damp hands, then thoroughly soap and rinse hands. To refill, pour hand soap into the decorative dispenser from i+m or another container – up to a maximum of two fingers below the bottle opening. Then close the soap dispenser.

Product tips

Minimalist refill system: Purchased bottles can be used again and again. Refilled single bottles with our Solo and Duo wall brackets are a particularly effective combination. The elegant bottle floats almost weightlessly on the wall within easy reach. It's magic.
Recycling tip: To aid the recycling process in the best way possible, the bottle, pump and label should be separated before they are disposed of together in the yellow bin.
Recycled is better: The recycled plastic used for the family size bottles – also called recyclate or R-HDPE – has a number of ecological advantages compared to standard HDPE: It reuses an existing resource, thus saving resources, and it is produced without the additional use of petroleum. It also has a lower energy consumption and emits less CO2 during the manufacturing process.