For Hotels
Vegan organic cosmetics for your hotel!
i+m modular system for ecological and economical hotel cosmetics
Today, hotel guests pay more attention to the quality and naturalness of hotel cosmetics. Consumption is more conscious, sustainable and ethical. Pure hotel cosmetic brands have little credibility and lose acceptance. Indulge your hotel guests with authentic, precious, certified natural cosmetics.
Conserving resources with quality and style. Set an example for ecology and sustainability in your hotel with one of the pioneer brands of the organic sector: i+m NATURKOSMETIK BERLIN – FAIR TRADE, BIO and VEGAN.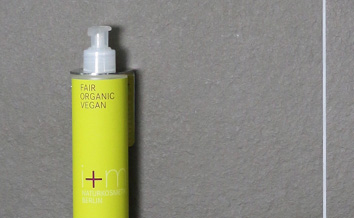 About i+m NATURKOSMETIK
The creation and manufacture of our products combines tradition and knowledge of the effectiveness of plants with love and passion for nature. We have been operating from our home in Berlin since 1978 with a high level of social commitment and a strong ecological motivation. With our values, FAIR ORGANIC VEGAN, we produce high-quality, BDIH-certified natural cosmetics for effective skin and hair care. Exquisite, fair-trade, regional, organic raw materials and active ingredients, such as natural cold-pressed oils, merge in our recipes to create a precious and unique natural cosmetic.
i+m NATURKOSMETIK standards
100 % organic certified according to COSMOS ORGANIC standard
100 % vegan certified according to The Vegan Society Standards
100 % cold-pressed oils from controlled organic cultivation
100 % renunciation of animal ingredients and animal experiments
100 % free of mineral oils, silicones, PEG's
100 % free from preservatives, parabens, etc.
Support of Fair Trade projects in Turkey, Palestine, India, Pakistan, Kenya, Uganda, Morocco and Peru
High social commitment, for example with i+m's own association "Frauenhäuser für Afrika e. V.", which founded the first women's shelter in Zambia in 2014, operates it to this day and continues to expand it.
The i+m modular system for resource-saving hotel cosmetics
It combines ecological principles with minimalist design and high flexibility with regard to your individual needs. You decide how ecological and economical your hotel cosmetics should be. The i+m modular system consists of two main components that can be combined in many ways.
---
Component 1
The simple i+m bottle system
Our 200 and 250 ml bottles are filled and delivered ready for sale with pump dispensers. This gives you the opportunity to set them up or hang them in the wall brackets we have developed. You can also sell the bottles in the hotel shop and generate additional income.
Advantages
40 % less packaging material and waste compared to single portions
30-50 % more economical compared to single portions
economical dosage, content lasts 3 – 4 weeks
Bottles can be installed in wall brackets or in upright position
additional income through resale of the products in the hotel shop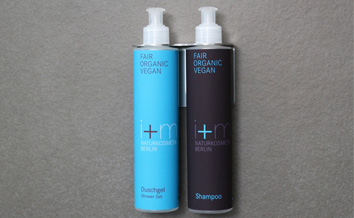 ---
Component 2
The smart i+m refill system
Our products can also be obtained even more ecologically and economically in the 10 L bag-in-box system in order to refill the small bottles. We also supply ready-labeled empty bottles to match.
Advantages
90 % less packaging material and waste compared to single portions
50-70 % more economical compared to single portions
no waste of cosmetics due to refilling
All hotel products are equipped with a 10 L bag-in-box system with carrying device and outlet tap. The filling of empty dispensers is quick and easy.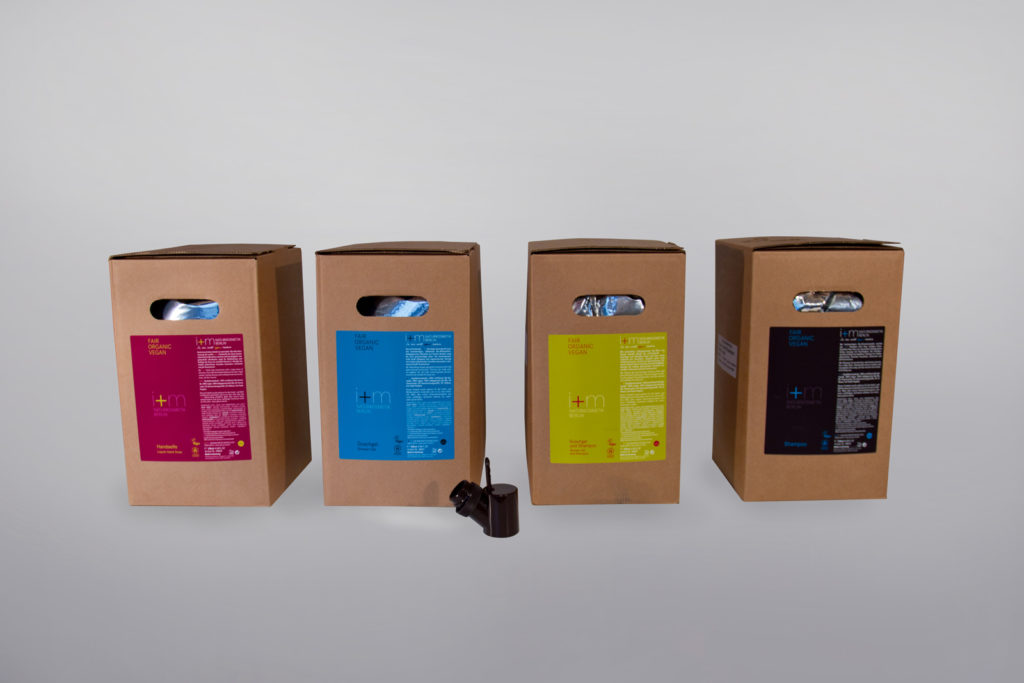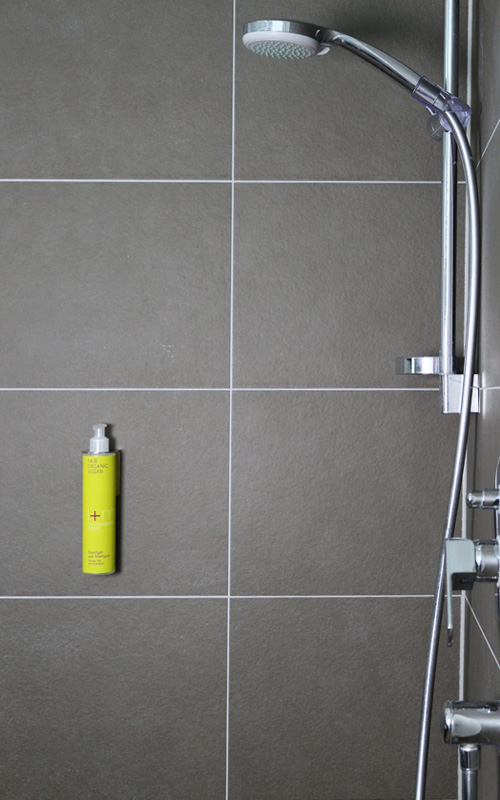 The exclusive i+m products for hotels

Hand soap liquid, with aloe vera* and shea butter, 250ml
Shower gel with local herbal extracts* and olive oil, 250ml
Shampoo with chamomile extract* and lemon, 250ml
Shower gel and shampoo (two in one product) with argan oil and olive oil, 250ml
Hair conditioner with jojoba oil and coconut oil, 200ml
Body lotion with shea butter and argan oil**, 200ml
* from controlled organic cultivation
** from controlled organic cultivation and fair trade
*** from fair trade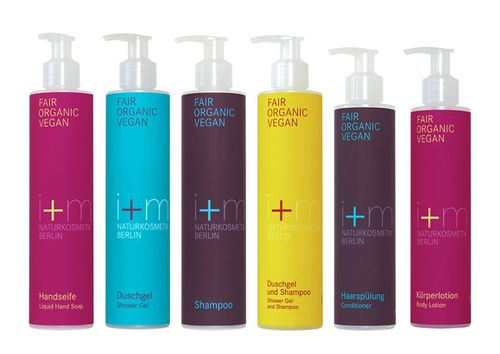 i+m is already represented in these exquisite hotels …
If you don't want to do without high-quality natural cosmetics on your travels, you can check in here confidently. In these hotels you will find exquisite products from i+m in the bathroom – FAIR ORGANIC VEGAN. So you can enjoy a well cared for stay with a sustainable claim.